Canberra has moved to axe its acquisition of 12-16 General Atomics Aeronautical Systems (GA-ASI) MQ-9B SkyGuardian unmanned air vehicles (UAVs).
Manufacturer GA-ASI says that Australia's Department of Defence (DoD) has advised it of the decision.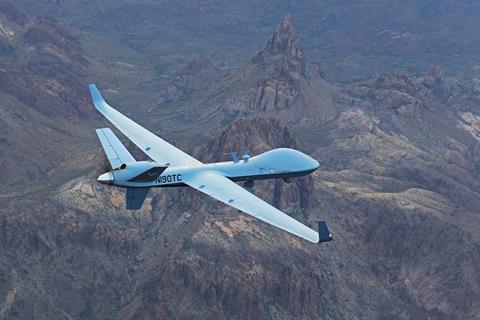 "The cancellation is disappointing for a number of reasons," says GA-ASI president David Alexander.
"Project Air 7003 offered a cost-effective, multi-domain capability that is deeply relevant to Australia's future strategic environment. Equally disappointing, our many Team SkyGuardian Australia partner companies have invested in the start-up and future support for this capability in Australia and will lose considerable sovereign capability opportunities following this decision."
In response to a query from FlightGlobal, the DoD had this to say about the decision: "Based on advice from Defence, the Government has decided to not proceed with Project AIR 7003 – Armed Medium Altitude Long Endurance Remotely Piloted Aircraft System. The decision allows Government to allocate that money to expand our response to attacks against Australia online through the REDSPICE program. A mix of other joint capabilities, such as [Northrop Grumman] MQ-4C Triton and [Gulfstream] MC-55A Peregrine aircraft, Teaming Air Vehicles and [Boeing] Apache Helicopters, will conduct roles expected of the SkyGuardian."
REDSPICE is a major investment the Australian government is making to beef up the Australian Signals Directorate.
In November 2019, Canberra selected the MQ-9B under its AIR 7003 requirement for an armed UAV, with the MQ-9B pipping another GA-ASI system, the MQ-9A Reaper. Previously, the two UAVs had seen off a rival offering in the form of the Israel Aerospace Industries Heron TP.
At the time of the MQ-9B's selection, then defence minister Linda Reynolds said a proposal would be drawn up for the government to consider in the 2021-2022 timeframe.
Adds Alexander: "Project AIR 7003 was expected to provide the Australian Defence Force with a reliable and desperately needed capability: an armed, medium-altitude, long-endurance, remotely piloted aircraft system providing persistent airborne intelligence, surveillance, reconnaissance [ISR], electronic warfare and precision strike capability for both land and maritime environments."
Separately, Canberra's acquisition of the Northrop MQ-4C Triton remains intact, with its three contracted examples being manufactured in the USA. This acquisition will ultimately amount to six or seven examples.
In addition, Boeing and the Royal Australian Air Force continue joint development work on the Boeing MQ-28A Ghost Bat, known internationally as the Airpower Teaming System.
Canberra has ordered six examples of the system, which is designed as low-cost, 'attritable' aircraft aimed at building out force numbers. The MQ-28A allows for different mission payloads – including those optimised for ISR work – to be swapped in and out of its nose.
Canberra is also obtaining four Gulfstream G550s equipped for the electronic warfare mission, with these designated as the MC-55A Peregrine.
Updated with remarks from the DoD, and from Northrop Grumman in relation to MQ-4C production.