Israel Aerospace Industries (IAI) has signed a $200 million contract with an unnamed country in Asia related to its Heron unmanned air vehicle (UAV).
IAI does not specify the contents of the deal, but says it relates to the provision of "unmanned aerial systems services to a country in Asia".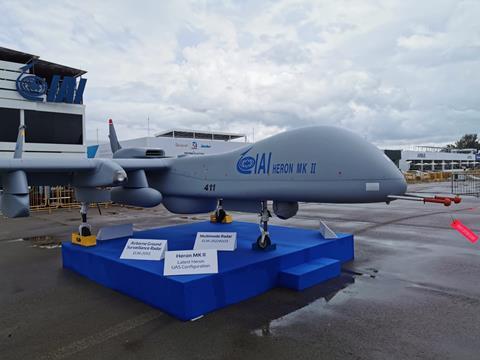 "The deal is a testament to our customers' strong satisfaction with the Heron UAVs, including their operational and technical performance," says IAI chief executive Boaz Levy.
"Our customers repeatedly choose the Heron for its broad range of intelligence collection missions in different ground and weather settings."
IAI adds that the Heron can be controlled from ships at sea or from land bases, supporting both ground missions as well as maritime patrol work, including against submarines. The system features a remote take-off and landing capability, precluding the necessity of deploying a control post near the runway.
IAI adds that it is the fourth significant transaction it has made this year in relation to UAVs.
In January, the company announced deals to provide two Heron Mk IIs to an unnamed country in Central Asia.
The two deals, which IAI says are valued at "tens of millions of dollars", were to see one example sold and one example leased.
That package included land arrays, reconnaissance payloads, and the two UAVs.