The Biden administration's latest military assistance package to Ukraine includes a type of unmanned air vehicle (UAV) for which few details are available.
The US government will supply Ukraine with more than 121 "Phoenix Ghost Tactical Unmanned Aerial Systems", the Department of Defense (DoD) said on 21 April. It provides no further details about the platform in a written statement announcing the aid package.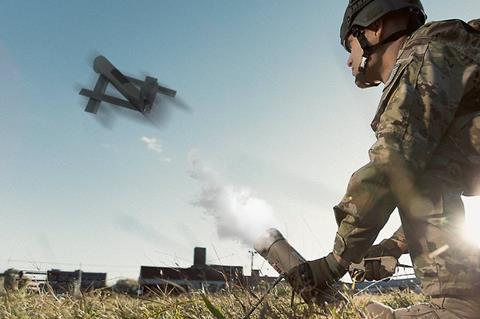 A representative of the department contacted by FlightGlobal did not clarify what the Phoenix Ghost is or where it is manufactured.
California-based Anduril produces a single-rotor UAV named Ghost. The company's website identifies the Ghost as intended for intelligence, surveillance and reconnaissance missions and as being capable of 60 continuous minutes of "near-silent" flight. The site also claims the Ghost UAV uses artificial intelligence to achieve autonomous flight.
Maryland-based UAV Solutions also produces a similarly named drone. The company describes its Ghost60 UAV as a tactical, multi-rotor design intended for endurance flight.
It is unclear if the Phoenix Ghost identified by the DoD is one of those platforms, or a previously unknown airframe.
News outlet Breaking Defense reports that an unidentified American official says the platform has been rapidly developed for the US Air Force (USAF) by Aevex Aerospace and is similar to the AeroVironment Switchblade previously provided to Ukraine.
California-based Aevex did not immediately respond to a request for comment from FlightGlobal.
In a written statement, DoD spokesperson John Kirby says the package, valued at $800 million, is "tailored to meet critical Ukrainian needs for today's fight, as Russian forces launch a renewed offensive in eastern Ukraine".
Kirby notes this is eighth wave of equipment pulled from US military stores since August 2021 for Ukraine. The USA has provided $4 billion in military assistance to Ukraine since the start of 2021, including $3.4 billion since the start of the Russian invasion.
At a subsequent appearance on 21 April, Kirby revealed that the Phoenix Ghost is designed to "largely, but not exclusively, attack targets". He notes the system does have optics that can be used for observation purposes, but says it is primarily an attack platform akin to the Switchblade.
Kirby repeatedly declined to provide specifics on the UAV's capabilities, but did say that the system was being developed for the USAF before war broke out in Ukraine. The platform was apparently identified for transfer to Ukraine based on specific capabilities requests made by Ukrainian leaders and the type of fighting US officials expect to see in the Donbas offensive.
Last updated at 16:15 on 21 April 2022 to include clarifying details of the Phoenix Ghost drone released by the US Defense Department.