The Northrop Grumman MQ-4C Triton unmanned air system has avoided a production freeze owing to a US Navy (USN) contract for one example.
The US government has awarded the company $98.9 million for a single example in low-rate initial production (LRIP) Lot 5, according to a 26 March contract announcement.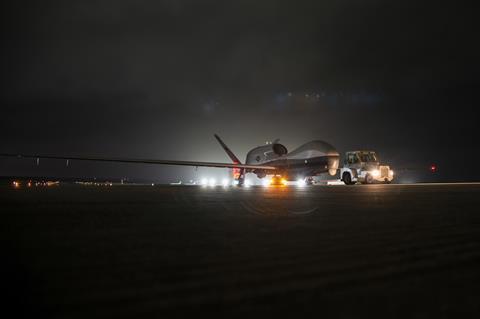 The commitment covers production in the 2021 fiscal year, which runs from 1 October 2020 to 30 September 2021.
The decision will help ensure the continuity of the Triton's production line, which also received a boost in June 2020 when Canberra committed to obtaining its third example.
Northrop raised concerns about the Triton production capability in early 2020, after the administration of former president Donald Trump proposed pausing Triton production in FY2021 and FY2022. During the pause, the administration wanted to instead focus on the MQ-4C's improved multi-intelligence configuration, designated IFC-4.
Northrop noted that while the USN was still committed to 68 examples and the type was still foreseen being in the service's 2023 budget, the US government's 12-month budgetary cycle meant it was impossible to guarantee the programme's future status.
In mid-2020, Northrop had come up with a proposal that Australia assume LRIP 5 production slots vacated by the USN, meaning that all six Australian examples would come from this production lot. At the time, Canberra said it was considering the idea.