General Atomics Aeronautical Systems has conducted the first flight of a production-representative MQ-9B SkyGuardian unmanned air vehicle (UAV).
The sortie took place on 30 March from the company's flight operations facility in El Mirage, California.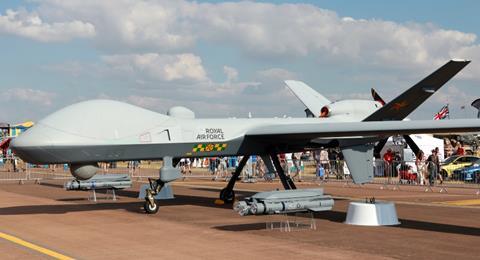 "With first flight of the production-representative aircraft, we remain on schedule for delivering MQ-9B Protector to the Royal Air Force," says chief executive Linden Blue.
The company-owned aircraft will undergo ground and flight evaluations to collect certification data, such as flight loads and performance testing. Data collected will support the type's military type certification campaign.
The UK service has orders for 16 examples, which it will designate the Protector RG1.
In September 2019, the UK Ministry of Defence awarded a roughly £100 million ($123 million) contract to complete test and evaluation-phase activities on the UAV
Other customers for the MQ-9B include Australia, which late last year selected the type, and Belgium, which is in negotiations for the aircraft.