Boeing has confirmed that the state of Queensland, Australia, will be the production centre for its developmental Airpower Teaming System (ATS) unmanned loyal wingman aircraft.
Boeing notes that the ATS is the first Boeing military aircraft to be designed outside the USA. It is also the first military aircraft to be designed, engineered and manufactured in Australia in over 50 years.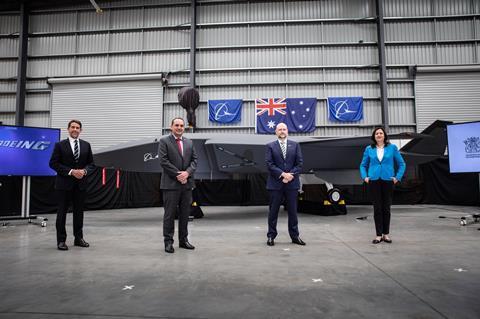 "Our investment in this advanced manufacturing project will provide critical skills for suppliers, academia and Boeing, and culminate in Queensland becoming the primary final assembly facility for the Boeing Airpower Teaming System, conditional on orders," says Queensland premier Annastacia Palaszczuk.
"Supporting this project is a significant investment in the Queensland defence and manufacturing industries and will strengthen ties between Australia and the global defence market."
While Boeing has never disclosed exactly where it has built the first ATS, which it rolled out in May, the company has a major presence in Queensland, with some 1,700 personnel in the state. It has also stated that the ATS was designed near Brisbane, the capital of Queensland.
According to the Boeing website, both Boeing Defence Australia and Boeing Research & Technology Australia are located in Brisbane. Boeing also has an aerostructures production facility in the state of Victoria.
In addition, Boeing has conducted other work in Australia related to automated flight and deploying artificial intelligence in unmanned aircraft.
Boeing and Australian government officials unveiled a mock-up of the ATS at the Avalon Airshow in 2019.
At the show, former Australian defence minister Christopher Pyne said that the Australian government had invested A$40 million ($28.7 million) in the programme. Boeing declined to state its financial contribution.
In mid-September, Boeing Australia conducted the first engine run for the ATS, as part of preparations for the unmanned system's first flight, planned before the end of 2020.