The UK Ministry of Defence (MoD) has ordered its first three of a planned 16 Protector RG1 unmanned air vehicles from General Atomics Aeronautical Systems, with the £65 million ($82 million) contract announced on 15 July.
Also including three ground control stations and support equipment, the launch production order follows what the MoD describes as a "successful development phase" activity performed by General Atomics in the USA.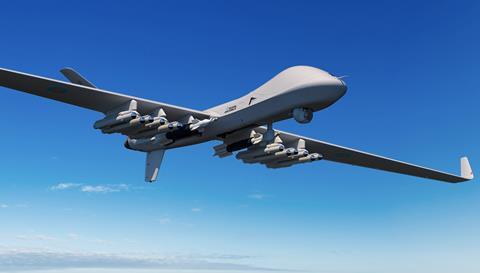 With its first production order now in place, the MoD says operations with the Protector fleet will start by mid-2024. The type will replace the Royal Air Force's (RAF's) current General Atomics Reapers.
Announced by defence secretary Ben Wallace during the RAF's online Air & Space Power Conference, the production deal "also includes an option to build 13 more aircraft and four ground control stations", the MoD says.
To be home based at RAF Waddington in Lincolnshire, the Protector fleet will be capable of conducting intelligence, surveillance and reconnaissance tasks, including in adverse weather conditions. It will also be certificated to operate in non-segregated airspace, by using on-board sense and avoid technology.
Flight endurance is cited at up to 40h, with the aircraft to carry MBDA Brimstone air-to-surface missiles and Raytheon UK Paveway IV precision-guided bombs.