General Atomics Aeronautical Systems is advancing weapons integration work in support of the UK's Protector RG1 remotely piloted air system programme, with ground vibration testing now being performed.
The test activity is taking place in the USA using General Atomics' first production example of the MQ-9B SkyGuardian; a platform with which the Royal Air Force's (RAF's) Protector shares 97% commonality.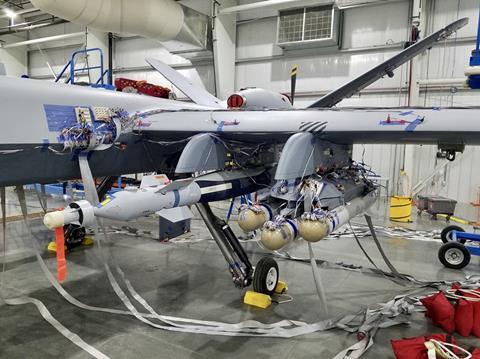 Air Marshal Sir Julian Young, chief of materiel (air) at the UK's Defence Equipment & Support organisation, on 12 June posted a Twitter image showing the medium-altitude, long-endurance type fitted with three MBDA Brimstone air-to-surface missiles and a Raytheon UK Paveway IV precision-guided bomb beneath its wing.
To enter frontline service from 2024, the RAF's Protector fleet will replace its current Reaper inventory in the armed intelligence, surveillance, target acquisition and reconnaissance role. The integration of UK-sovereign weapons will be a key advance from its previous reliance on US-developed munitions.
General Atomics last September was awarded a £100 million ($126 million) contract to complete test and evaluation work on the new platform for the UK.
In its Defence Equipment Plan 2019 publication, released in February, the UK Ministry of Defence detailed the total cost of the Protector programme at £1 billion.