Aerospace services company AeroTec has opened a third maintenance hangar in Moses Lake, Washington and secured approvals to maintain several aircraft types.
AeroTec already had two hangars at Moses Lake's Grant County International airport. It now has three, having moved workers into the third, newly-constructed 7,900sq m (85,000sq ft) site on 13 January.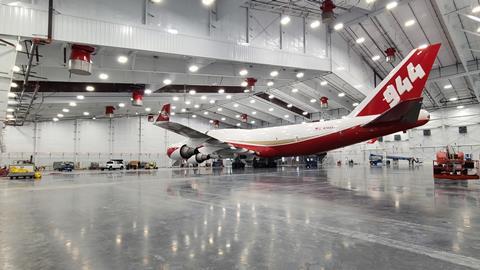 The three hangars give AeroTec sufficient space at Grant County to accommodate "a mix of up to nine regional, single-aisle and dual-aisle commercial aircraft", the company says.
Seattle-based AeroTec, which specialises in aircraft certification work, has also attained Federal Aviation Administration approvals to maintain several aircraft types.
The company now has rating to work on Boeing 737 Max, 747-400s and Cessna Caravans. It expects to receive rating for additional aircraft types by the end of March.
In recent days, the company received for maintenance a Boeing 747-400 firebomber operated by Global SuperTanker Services. That aircraft is the first to undergo maintenance in AeroTec's new hangar, the company says.