Australia's Alliance Airlines has entered into a five-year heavy maintenance agreement with Fokker Services for its Fokker F70 and F100 aircraft.
The latest agreement is effective until 2025 and builds on a 2018 deal for heavy maintenance checks for the regional operator's F50 fleet, Fokker Services' parent company GKN Aerospace said in a 4 March press release.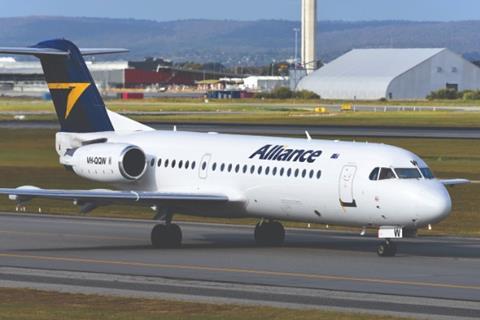 Alliance's chief executive, Lee Schofield states: "With 43 Fokker aircraft in service and long-term plans for the continued operation of the F70/F100, flexibility in our heavy maintenance program is key and having the support of the type certificate holder is essential."
The airline has until recently operated an all-Fokker fleet, and according to a 4 February statement, has 24 F100, 14 F70LR, and five F50 aircraft.
It disclosed in August and December plans to acquire 30 second-hand Embraer E190s in total, intending to expand into capital city flights within Australia. In February, it announced a wet lease agreement with QantasLink, expected to commence in June and using three of those E190s.
Cirium Core data shows that the number of tracked passenger flights operated by Alliance in 2020 – using F100, F70 and F50 aircraft – were at least 1.5 times that of 2019, with a similar increase in seat capacity.
Over the same period, the operator's F50 and F100 aircraft types were each deployed on about 30% more flights, while F70 operations nearly tripled.