Collins Aerospace has expanded its agreement with MRO firm Ameco to support Air China's aircraft fleet.
The ten-year agreement adds support for sensors, fire protection equipment as well as "next-generation aircraft" from both Airbus and Boeing, says Collins.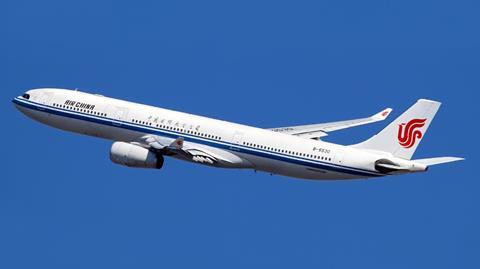 The deal builds on a previous "power-by-the-hour" arrangement between the three companies.
"Collins Aerospace is expanding its longstanding support agreement for Air China's aircraft fleet to include next-generation Boeing and Airbus aircraft and additional aircraft systems," it says.
"The new agreement signed with Ameco…builds on the existing support agreement for avionics onboard all of the airline's Boeing and Airbus aircraft."
Ameco is a joint venture between Air China, which holds 75%, and Lufthansa, which holds 25%.
Craig Bries, vice president and general manager for avionics and support for Collins, says the deal will reduce operational risks, boost reliability, and ensure safety.
"This contract is the result of significant strategic cooperation between Collins Aerospace, Air China and Ameco," says Ameco chief executive Chen Lun.
"As we know, the Covid-19 pandemic lead to a complex market situation and we sincerely hope this agreement can provide increased safety, cost savings and the necessary support for Air China's fleet. We look forward to working together throughout the next ten years."
Cirium fleets data shows that Air China's in-service fleet stands at 429 aircraft, of which 257 are from Airbus, 167 from Boeing, and five from Comac.
In addition, it has orders for 70 aircraft, with 25 aircraft in storage. The majority of stored aircraft are 737 Max 8s, of which Air China has 16 in storage.