Surging commercial aftermarket revenue helped push Collins Aerospace and Pratt & Whitney – both divisions of Raytheon Technologies – to profits in the second quarter of 2021.
Though aftermarket sales will likely continue their upward swing in the second half of 2021, the pace of gains will likely slow later this year as more jets enter service, Raytheon says.
"What surprised us in Q2 was how quickly the commercial aftermarket came back, particularly in China and the US," Raytheon chief executive Greg Hayes says during the company's second-quarter earnings call on 27 July.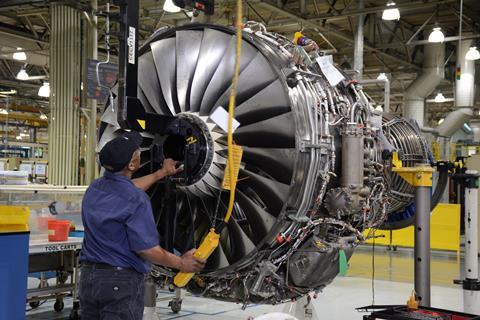 Collins commercial aftermarket sales jumped 24% year-on-year in the second quarter, reflecting a 30% bump in repair and parts sales, a 16% rise in modification and upgrade sales and a 15% increase in provisioning sales, parent Raytheon reports.
Those gains far outshine the 8% year-on-year increase in Collins sales of commercial equipment, and its military sales, which declined 7% year-on-year last quarter.
The aftermarket boon pushed Collins second-quarter sales up 8% year-on-year to $4.5 billion, resulting in an $506 million operating profit, up from an operating loss of $317 million in the second quarter of 2020.
Hartford-based P&W's aftermarket sales surged 41% year-on-year in the second quarter, with shop visits for large commercial engines up 56% and shop visits of Pratt & Whitney Canada engines up 18%. The engine maker has also seen a "continued ramp" in the number of shop visits involving its PW1000G line of geared turbofans, which power Airbus A320neo-family jets, A220s and Embraer E-Jets E2.
P&W shipped 144 large commercial aircraft engines in the second quarter, up from 92 in the same period one year earlier.
Those factors led P&W to a $112 million second-quarter profit, compared to a $457 loss in the same period of 2020. P&W's second-quarter sales jumped 23% year-on-year to $4.3 billion.
Raytheon chief financial officer Neil Mitchill says the aftermarket gains reflect "airlines getting ready for the expected increase in demand, here in the second half of the year".
"The airlines are actually spending money ahead of the recovery, in anticipation of a resurgence in demand," says Hayes. "The second quarter was much, much better than anybody expected."
But with a large chunk of aftermarket demand now satisfied, Raytheon's aftermarket growth will likely slow in the second half of 2021, Hayes says. The business will likely see renewed growth once international, long-haul travel, which accounts for 40-45% of aftermarket share, recovers.
For those reasons, Collins aftermarket growth will likely slow from 15% year-on-year in the second quarter to around 5% in the second half of 2021, says Mitchill. Likewise, growth of P&W's large commercial engine shop visits will likely slip to "north of 30-35%" in the second half of 2021, down from 56% second-quarter growth.