Maintenance provider Dublin Aerospace has established a UK subsidiary at the hangar facilities of defunct regional carrier Flybe at Exeter airport.
Under the name Exeter Aerospace, the new company will, like the former Flybe Aviation Services operation, support Embraer E-Jets and De Havilland Dash 8 and ATR 72 turboprops.
The hangar and associated facilities have been leased from Exeter airport's owner, Regional & City Airports, under a long-term agreement.
"The availability of the hangars and workshops there, combined with a phenomenal pool of local aviation and engineering talent, makes this a hugely attractive location for us," states Dublin Aerospace chief executive Conor McCarthy.
The new site will be the company's first MRO location in the UK, he notes.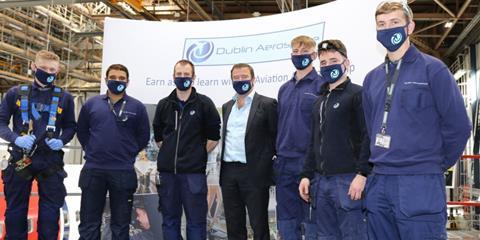 Applications to receive UK and EASA certifications for the facility are under way.
McCarthy says the MRO provider has acquired all required tooling and equipment for the aircraft types it intends to support, and has started recruiting staff.
A staff of engineers, technicians and support personnel totalling 100 are to be hired "immediately" for the initial phase.
The MRO provider says its aim is to employ 250 staff by 2024 and operate six overhaul bays, but notes that the Exeter Aerospace will develop "in line with the business as airlines and aircraft return to the skies over the coming months and years".
Flybe Aviation Services' still-accessible LinkedIn profile indicates that the company employed around 500 staff in its day. But its services included line maintenance – perhaps at additional locations in its parent carrier's network – and base checks for further aircraft types, including Bombardier CRJs, BAE Systems Avros and business jets.
Dublin Aerospace says its new subsidiary will operate a "unique" employment model featuring "flexible annualised-hours working to match the high degree of seasonality in aircraft overhaul".
Staff are set to receive 10% of the operation's quarterly financial result under a profit-sharing scheme. "This enables all the team to benefit from their hard work and flexibility," says the MRO provider.
In addition to hiring qualified personnel, Dublin Aerospace will establish "strong aircraft engineering apprenticeship and aircraft mechanic traineeship programmes in partnership with the UK government and Exeter College".
McCarthy states: "While 2020 has been unprecedented in many ways, we believe that it is vital to keep our focus on the longer term. Our intention is to continue the great work that has been done locally to develop young talent for aerospace and thereby continue the proud aviation tradition here in the south of England."
Dublin Aerospace did previously prepare to establish a UK base maintenance facility, selecting a site and holding talks with local colleges to establish a training programme. But the project was abandoned after the Brexit referendum in 2016, Dublin Aerospace's then-chief executive Michael Tyrrell told Cirium in 2017.
Tyrrell left Dublin Aerospace in January 2020, his LinkedIn profile indicates.
Flybe ceased operations – following years of financial difficulties – in March, just as the coronavirus crisis swept Europe.
At its main site in the Irish capital, Dublin Aerospace supports Boeing 737s, Airbus A320s and A330s. Workshops there are additionally specialised in landing-gear and APU overhaul.