MRO firm HAECO has completed cabin reconfiguration work on its first Aeroflot Boeing 777-300ER.
The new configuration takes total capacity to 427 seats, up from 402 previously, says HAECO.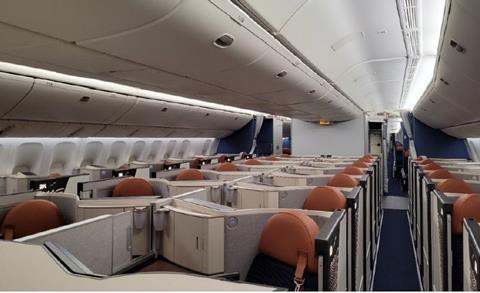 Two additional Aeroflot 777-300ERs will receive the new interior in the coming months.
The new configuration includes 28 seats in business class, 24 in premium economy, and 375 in economy. The economy class seat pitch is 80cm, and 96cm in premium economy.
The business class seats feature a sliding door for privacy and a lie-flat bed.
"HAECO Hong Kong accomplished this Supplemental Type Certificate (STC) input with Boeing as a design integrator, and the aircraft is fitted with the latest generation of Panasonic eX3 in-flight entertainment system," says HAECO.
"Passengers will enjoy the new cabin interior on all popular international and domestic routes of Aeroflot."
Cirium fleets data indicates that Aeroflot has 22 777-300ERs with an average age of 5.9 years.