HAECO Xiamen has rolled out its first A321-200PCF freighter conversion, in cooperation with 321 Precision Conversions, which holds the supplemental type certificate for the converted type.
The converted aircraft (ES-MAG, MSN2303) features a new cabin door on its left side before the wing, according to an image provided by HAECO.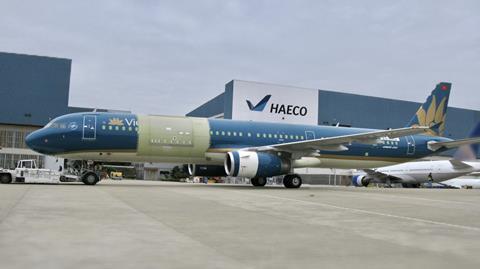 HAECO Xiamen adds that to minimise downtime it performs heavy checks on aircraft and other modifications while the conversion process is underway.
"HAECO Xiamen started collaboration with [321] Precision on the Boeing 757-200PCF conversion in 2010," says Kevin Guan, chief executive of HAECO Xiamen.
"We have [had] good cooperative relationship with Precision in the past 12 years, and we are delighted to extend this collaboration to A321-200PCF conversion. HAECO Xiamen is busy preparing to convert one Boeing 757-200PCF conversion line to A321-200PCF in the middle of the year and we look forward introducing multiple A321 conversion lines here then."
Cirium fleets data indicates that ES-MAG was delivered to Vietnam Airlines in 2004, and served with the carrier until 2020, with a two-year stint at Cambodia Angkor Air from 2014-16.
The aircraft is managed by Cross Ocean Partners and is due to be leased in by Smartlynx Estonia in February. It is powered by two International Aero Engines V2500s.
"Our long-term relationship with HAECO Xiamen has proven them to be a consistent performer on the Boeing 757-200PCF programme and now on the A321-200PCF," says Gary Warner, president of 321 Precision.
"Their experienced and professional team has done a remarkable job on the first A321-200PCF conversion in China. We look forward to many more successful redeliveries."