A new air cargo company called Backbone Freighter Leasing has become launch customer for Kansas Modification Center's (KMC) Boeing 777-300ER converted freighter.
Backbone, an affiliate of German asset manager Dr Peters Group, has placed firm orders for three of the jets, with deliveries in 2024 and 2025, KMC and Backbone say on 26 April.
Backbone has also taken options to acquire another seven of the cargo aircraft, with those deliveries pencilled for 2025, 2026 and 2027.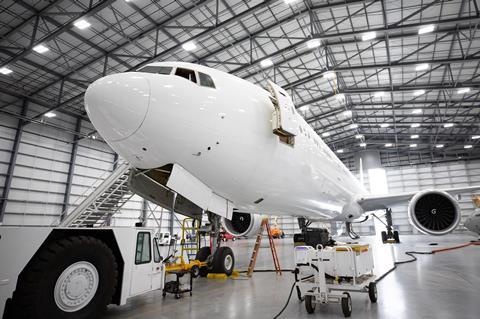 KMC, which values the deal as worth $300 million, is developing its 777-300ERCF converted freighter in partnership with maintenance and overhaul shop NIAR WERX – a division of Wichita State University's National Institute for Aviation Research (NIAR).
The conversion stands to compete with two other 777 passenger-to-cargo modification programmes: those of Israel Aerospace Industries and US firm Mammoth Freighters.
KMC has said it aims to complete preliminary design work by the end of the third quarter of 2022, to begin modifying the first aircraft in 2023 and to complete modifications before that year ends.
The team is working to receive the project's supplemental type certificate from the FAA in the second quarter of 2024.
Backbone is a "new venture… dedicated to triple-seven converted freighters on lease," says Christian Mailly, managing director of DS Aviation, the aerospace business of Dr Peters Group. "We are already in discussion with a number of potential operators."
Dr Peters Group is acting as "arranger" of Backbone, meaning it is lining up equity investors for the business, Mailly adds.
Backbone sees opportunity to acquire used 777-300s, and to find new homes for those jets as air freighters, he says.
NIAR WERX programme manager Eric Kivett has told FlightGlobal that his team is taking a unique approach by capping the 777-300ERCF's maximum payload at 92,986kg (205,000lb) – about 6,800-7,700kg less than the competing 777-300ER freighters.
Doing so will keep the jet within the type's already-certificated maximum take-off and landing weights, meaning NIAR WERX need not make costly and complex structural reinforcements nor significant changes to flight management computers, Kivett said.