Kenya Airways is reporting some progress in its aircraft availability after recently flagging the risk of service disruptions resulting from supply chain-related maintenance delays.
The SkyTeam carrier on 9 January warned customers of flight disruptions because of delays in returning aircraft to service following scheduled maintenance, noting it lacked sufficient extra aircraft to make up for aircraft being unavailable for longer than planned.
The airline blamed the MRO delays on wider supply chain challenges, an issue several other carriers have flagged as creating pressures because of limited inventory of aircraft spares at MRO providers.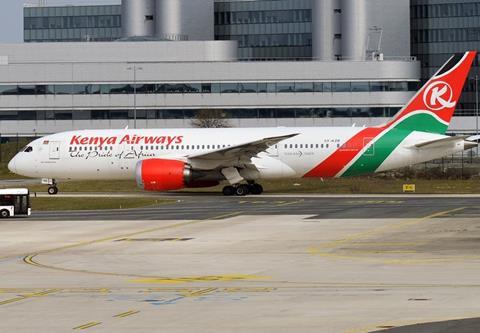 In an update today, Kenya Airways chief executive Allan Kilavuka says the availability of its aircraft is improving.
"We continue to recover our aircraft on scheduled and unscheduled maintenance as and when we receive the parts," he says.
"We are in discussions with our suppliers on the delivery timelines for all the components required for the maintenance tasks," Kilavuka says, adding that the airline will "proactively update" customers should there be any disruptions due to parts unavailability.