MRO provider Lufthansa Technik is planning to set up a hydrogen demonstrator with Airbus and other partners to test the technology's potential for making ground processes more environmentally friendly.
LHT chief executive Johannes Bussmann said during an 8 March financial results briefing that preparations for the project had begun in 2020, and that the effort was aimed at studying the use of hydrogen technology beyond initial laboratory tests.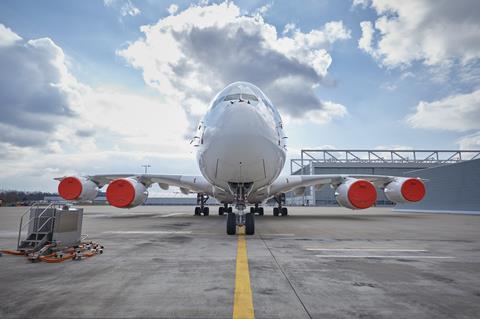 One area of activity could be to simulate hydrogen-powered ground processes at airports, Bussmann says. Detailed planning beyond an initial project framework is currently under way.
Bussmann did not disclose a location for the demonstrator, but indicated that Hamburg, where LHT has its headquarters, is a likely candidate. The project will be conducted in partnership with Airbus and the Hamburg Aviation industry cluster, in which the airframer, LHT and the local airport operator are core stakeholders.
The project received "high interest" in political circles and will be financially supported by Hamburg's regional government and the German state, Bussmann says. He adds that many additional suppliers have applied to join the project and that the number of participants has not been finalised yet.
In the medium term, the project is to be included in the European Union's Clean Aviation research programme. Bussmann expresses optimism that the project will end up having a "very comprehensive" scope.
Beyond the hydrogen demonstrator, LHT plans to undertake two other next-generation technology projects – one focused on maintenance procedures for climate-neutral aircraft, the other on repair and lifecycle management for systems on hybrid-powered aircraft.