German engine specialist MTU will start servicing CFM International CFM56-7Bs at its Berlin overhaul shop later this year.
The site in Ludwigsfelde, near the German capital's Brandenburg airport, has so far been focused on smaller aero engines and industrial gas turbines. It is used to service Pratt & Whitney PT6A, PW200, PW300, PW500 and GE Aviation CF34 series engines, MTU's website indicates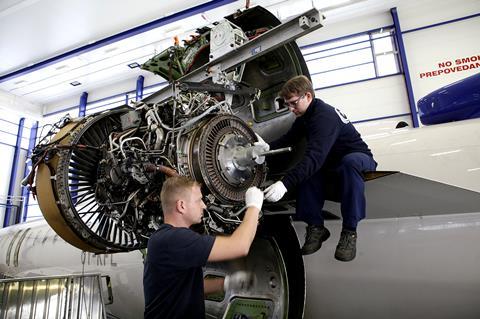 Boeing 737NG-powering CFM56-7Bs are meanwhile serviced in Hannover and at the Zhuhai shop that MTU jointly owns with China Southern Airlines' parent.
MTU senior vice-president MRO programmes Martin Friis-Petersen tells Cirium that CFM56-7B services are scheduled to begin at the Berlin facility around the middle of this year. He says the expansion amid the pandemic shows the company's confidence in a recovery and in the post-Covid MRO prospects for narrowbody engines.
Despite the crisis, MTU is continuing an expansion of its Zhuhai facility – which includes construction of a new, dedicated PW1000G overhaul shop near the existing site – and establishment of a component repair shop outside Serbian capital Belgrade, he notes.
The Munich-headquartered engine subassembly and MRO provider expects synergies from overhauling CFM56-7Bs and CF34s at the same site, as the latest CF34 variants share technology with the 737NG powerplant.
MTU says the additional CFM56-7B overhaul line increases network flexibility and reactivity – something the company sees as "extremely important" in the current environment.