South Africa's aviation regulator has temporarily suspended the aircraft maintenance organisation approval of Lufthansa Technik Maintenance International (LTMI) pending the resolution of two outstanding issues raised in a recent audit.
On 15 March, the South African Civil Aviation Authority (SACAA) carried out audits of the two MRO firms that have been maintaining Comair's fleet. It came after an earlier probe of Comair resulted in the temporary suspension of the South African airline's operating licence.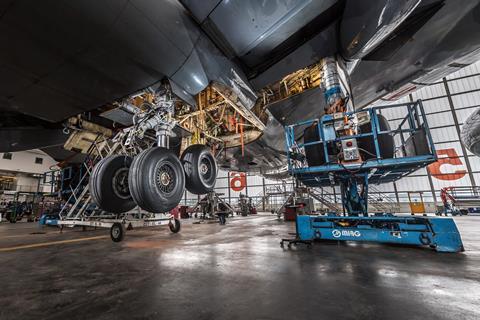 SACAA says its audit of LTMI resulted in four Level 1 findings – which are viewed as posing an immediate risk that needs addressing. While LTMI was able to submit evidence and corrective action plans to address two of the issues, the remainder of the findings are still to be resolved.
LTMI is a Lufthansa Technik subsidiary which operates maintenance services for its customers outside of Germany.
"LTMI now has 24 hours to resolve two open topics that were identified during last week's audit and could not yet be remedied," says Lufthansa Technik.
"Safety is the top priority for the entire Lufthansa Technik Group. LTMI is therefore in permanent exchange with the authorities and has set up a special quality management team to remedy the identified deficiencies sustainably and as quickly as possible."
Comair flights were temporarily suspended on 12 March before resuming on 17 March after SACAA carried out a probe following what it termed a "spate of occurrences" affecting a number of flights. After news of the audit findings at LTMI emerged, Comair "pre-emptively" arranged for its other MRO provider, SAA Technical, to take over maintenance of its aircraft.
Comair chief executive Glenn Orsmond says: "Our priority at the moment is to restore a full, reliable flight schedule for our customers to ensure they can book and fly with confidence, which is why, in these extraordinary circumstances, we acted as soon as we were informed that the suspension was a possibility."