Viking Air's first CL-415EAF enhanced aerial firefighter has completed its debut flight following modification from the earlier CL-215 water-bomber standard.
Modified by Viking Air subsidiaries Longview Aviation Services (LAS) and Cascade Aerospace, the aircraft was flown from the latter's facility in Abbotsford, British Columbia.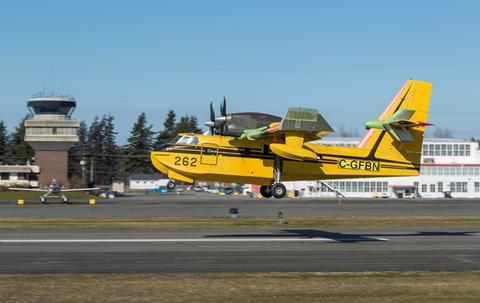 Updates included fitting a Viking-supplied conversion kit, installing Pratt & Whitney Canada PW123AF turbine engines, Collins Aerospace's Pro Line Fusion avionics suite, "increased fire-retardant capacity and improvement to numerous aircraft systems", LAS says.
"All obsolete components impacting the worldwide fleet of CL-215 and CL-415 aircraft are replaced in the CL-415EAF, and the upgraded aircraft is designed to failsafe FAR25 certification criteria with no preset life limit," it adds.
Cirium fleets data shows that the aircraft, MSN1081 – now registered as C-GFBN – was originally delivered by Canadair in November 1985.
"This initial CL-415EAF is the first ordered by launch customer Bridger Aerospace, of Bozeman, Montana," says LAS. It will be delivered next month, "in advance of the start of the 2020 North American wildfire season".
Modifications embodied for the CL-415EAF enhancement also form the basis for Viking Air's new CL-515 variant. Cirium data shows the company has a confirmed order to equip the Indonesian air force with six examples.