Irish carrier Aer Lingus has confirmed moves to launch its first transatlantic flights from the UK after disclosing plans to begin services from Manchester to New York JFK and Orlando this summer.
Aer Lingus plans to launch the New York and Orlando routes from 29 July as part of wider expansion which will see the IAG carrier add flights from the UK airport to Barbados in October and to Boston the following summer.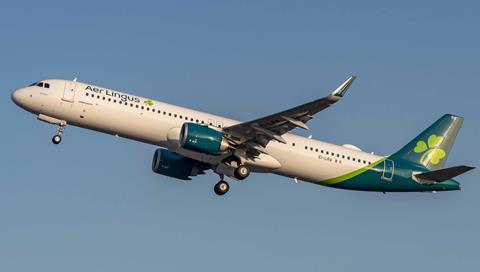 The carrier will deploy single-aisle Airbus A321LRs on the New York and Boston flights, while using Airbus A330-300s for the leisure routes to Orlando and Barbados.
Measures restricting international travel from England remain in place, though the UK government will next month update timelines on the potential lifting of these restrictions. Aer Lingus has extended until the end of the year the waiving of fees to change bookings.
Manchester Airport managing director Karen Smart says: "Pre-pandemic there were more than 5.5 million passengers who crossed the Atlantic each year via Manchester and so to be able to offer these services with a new carrier is great news."
Prior to the pandemic, Virgin Atlantic was the only UK carrier which operated the three US routes from Manchester – though leisure carrier Thomas Cook served New York JFK and Orlando prior to its collapse in the autumn of 2019, Cirium schedules data shows. British Airways, sister carrier to Aer Lingus within IAG, does not operate transatlantic flights from Manchester.
Aer Lingus chief commercial officer David Shepherd says: "We believe our transatlantic offering is one of the best in the marketplace comprising both business and economy cabins.
"Equally our operation of the new and innovative Airbus A321LR aircraft marks a further milestone as Aer Lingus will be one of the first carriers to fly the aircraft between the UK and the USA."
Aer Lingus currently serves Manchester from Belfast and Dublin, and plans to resume Cork services in the summer.