Air Baltic has announced a codeshare with Emirates as it seeks to leverage the connectivity advantages of switching its UAE services from Abu Dhabi to Dubai.
The codeshare arrangement – announced on 25 November – follows Air Baltic's launch of four-times-weekly Dubai services in late September. That marked the end of its pre-Covid codeshare relationship with Etihad Airways, under which it had flown into Abu Dhabi with a focus on winter-only leisure travel from October 2017 until the start of the pandemic.
Speaking to FlightGlobal earlier in November at Dubai air show, before the Emirates codeshare had been announced, Air Baltic chief executive Martin Gauss explained that "the key to this route, of course, is the connectivity provided from Dubai", with the carrier intending "to fly this also through the summer, which would be new".
That means "we have set it up in a different way" to Air Baltic's Abu Dhabi flights, Gauss said, with connecting passengers and leisure travellers targeted, rather than mainly the latter.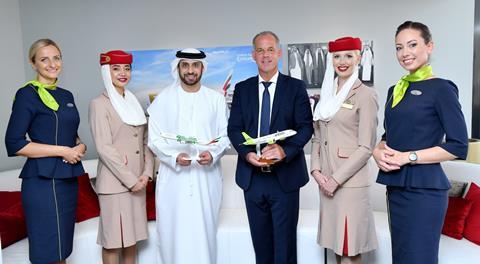 Dubai is "more attractive" when it comes to its hub function and the "key points where the Baltic passengers need to go", Gauss stated, thanks to its "onward connectivity, transit times and available frequencies".
For leisure travellers intending to holiday in the UAE, "it doesn't matter whether they land in Dubai or Abu Dhabi", he added.
Asked about the idea of a codeshare with Emirates, Gauss described it as a "very attractive" prospect.
Speaking after the announcement of the codeshare, Gauss says the "new partnership will enable our passengers to reach new exciting destinations in Asia, Australia and beyond".
Emirates states that the tie-up "enables us to offer customers even more travel choices and connectivity in the Baltic region".
Gauss was at Dubai air show with Air Baltic's newest Airbus A220-300 jet, which was part of the event's static display.