Latvian carrier Air Baltic is to begin restoring flights outside of the European Union, initially resuming services to the Ukrainian capital Kiev.
Air Baltic will operate Riga-Kiev flights from 17 March. It plans to follow from the start of the summer schedule on 28 March by resuming flights to Georgian capital Tbilisi, Tel Aviv in Israel, the Russian cities of Moscow and St Peterburg, and the Belarusian capital Minsk.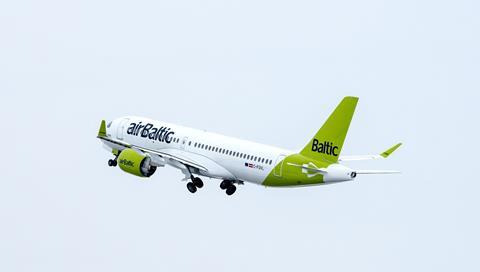 Airline chief executive Martin Gauss says: "Now that flights from Latvia to countries outside the European Union are allowed, we are gradually resuming connections to a few key destinations, to improve the essential connectivity we provide for the Baltic region. For many people, who need to travel for essential reasons, aviation is the safest mode of transportation."
Air Baltic carried out just 480 flights in February – compared with over 4,100 for the same month in 2020 – and handled just 23,500 passengers. This is the lowest number flown by the carrier since it resumed flights in May last year following a temporary grounding when the pandemic first hit.
"Currently Air Baltic cash reserves are reducing by around €3.5 million ($4.2 million) every week," Gauss wrote in a recent open letter to mark a year since the crisis.
The airline secured €250 million in equity funding from the Latvian state to help survive the crisis and Gauss reiterates the airline's plan to return the state's investment via sale share proceeds from a planned future IPO.
"This will not only repay the temporary help Air Baltic needed during the Covid crisis, but it will also strengthen the capital markets in Latvia as we intend to do a dual listing on an international stock exchange and on the Nasdaq Riga exchange," he says.
Since the crisis hit a year ago, Air Baltic cut it fleet from 40 to 25 – moving to become an all-Airbus A220 operator in the process by withdrawing its remaining Boeing 737s and Bombardier Q400s.
"Every crisis has an end, and with that in mind we at Air Baltic are maintaining our operations and even investing in the future by taking in more Airbus A220-300 aircraft this year," he says. "By the end of 2021 we will have 32 Airbus aircraft and with that we will offer 75 destinations from Riga, Tallinn and Vilnius in the summer months."