Air Canada is making "meaningful" cuts to its summer schedule as it tries to get ahead of operational issues that have plagued numerous other airlines in North America.
The Montreal-based carrier says on 29 June that it's been forced to strike about 10% of its flights – 77 round trips or 154 legs - per day in July and August from its schedule.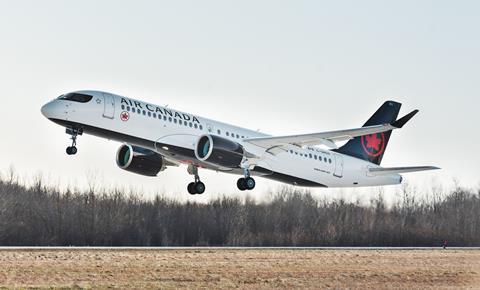 "The surge in travel has created unprecedented and unforeseen strains on all aspects of the global aviation system," chief executive Michael Rousseau says in a letter to customers. "Around the world there are recurring incidents of flight delays and airport congestion resulting from a complex array of persistent factors affecting airlines and our partners in the aviation ecosystem."
"To bring about the level of operational stability we need, with reluctance, we are now making meaningful reductions to our schedule in July and August in order to reduce passenger volumes and flows to a level we believe the air transport system can accommodate," he adds.
While international flights are unaffected, Canada's legacy carrier is reducing frequencies on trans-border and domestic connections, mostly from its Toronto and Montreal hubs. Three routes will be temporarily suspended from the schedule, namely flights between Montreal and Pittsburgh, Baltimore and Kelowna and one route from Toronto to Fort McMurray.
Prior to this, the carrier says it operated on average about 1,000 flights a day.
As customers return to air travel, airlines, airports and the broader commercial aviation infrastructure in North America have all struggled to keep up with roaring demand following two summers during which people had been hesitant to travel due to Covid-19. A combination of staffing shortages, air traffic control issues and unpredictable weather have resulted in long lines at security screening checkpoints, lost luggage, hours-long waits for customer service and cancelled flights.
In the past weeks, thousands of flights have been affected, leaving hundreds of thousands of passengers stranded or delayed. Now, US carriers are bracing for the coming Independence Day holiday long weekend, which promises to be the busiest travel weekend of the summer. Chicago-based United Airlines has said it expects to transport 5.2 million customers during the period, 24% more than last year and about 92% of the number it transported in pre-pandemic 2019.