Air Canada plans to fly non-stop between Vancouver to Dubai four times weekly using Boeing 787 Dreamliners beginning on 28 October.
The carrier said on 13 April that the new route between Vancouver International and Dubai International airports will complement Air Canada's daily flights between Toronto and Dubai, "broadening its presence in fast-growing international markets".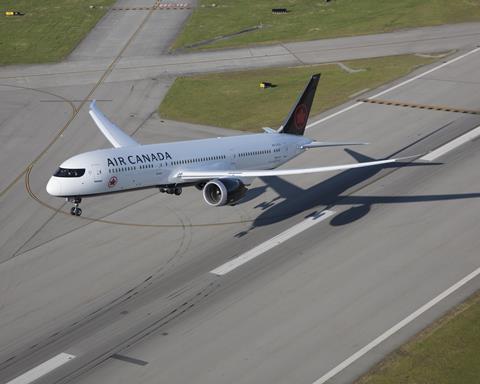 "We are extremely pleased to add the only non-stop service linking Vancouver and Dubai, two iconic and vibrant global destinations," says Mark Galardo, Air Canada's senior vice-president of network planning and revenue management. "In cooperation with our codeshare and frequent flyer partner Emirates, our Vancouver-Dubai flights will connect to a multitude of destinations across the Middle East, Indian subcontinent and East Africa."
The marathon flights will depart Vancouver at 20:50 local time and arrive in Dubai at 23:50 the next day. Returning flights will depart Dubai at 02:00 local time and arrive at 05:00 in Vancouver.
The 6,350nm (11,800km) one-way flight is estimated to take about 13 hours.
Air Canada flies daily between Toronto Pearson International airport and Dubai – a nearly 7,000nm flight, according to Diio data.
Montreal-based Air Canada operates a fleet of 37 787s, with one further 787-9 on order, according to Cirium fleets data. The 787-8 has capacity for 255 passengers, as configured by Air Canada, while the larger 787-9 can seat up to 298 customers.
The airline also has orders for 30 of the yet-to-be-certificated Airbus A321XLR, a long-range variant of the narrowbody A321neo that could add capacity to Air Canada's international network.
Air Canada is not alone in eyeing new long-haul flights from Canada to the Middle East. Last month, start-up discount carrier Canada Jetlines disclosed that it was exploring a potential partnership with Qatar Airways that would include non-stop flights between Toronto and Doha.
"This would offer Canadian travellers access to Qatar Airways' unparalleled network via Doha to destinations in the Middle East, Africa, Indian subcontinent and across Asia," Jetlines said on 16 March.