Air Canada will offer up to 220 transborder flights every day after the government of Canada announced it would lift entry restrictions for US citizens and permanent residents who are fully vaccinated beginning in August.
The Montreal-based carrier says on 19 July that its summer schedule will include 55 routes and 34 destinations in the US.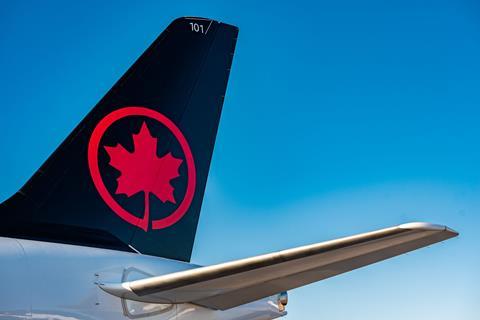 "The easing of travel restrictions announced today by the federal government is an important step based on science, and we are very pleased to rebuild our Canada-US network," says Mark Galardo, senior vice-president, network planning and revenue management at Air Canada. "Canada and the United States share close ties and restoring air connectivity will contribute to both countries' economic recovery."
While the government relaxed requirements for returning Canadian citizens and permanent residents earlier this month, it had not yet published plans to open the country up to foreign visitors. The tourism and air transport industries on both sides of the frontier had repeatedly asked the government to develop a strategy that would allow a safe opening of the transborder travel market.
The border between the US and Canada has been effectively sealed off to non-essential travel since March 2020. The closure had been extended month-by-month and was due to end on 21 July.
But earlier in the day the government of Canadian Prime Minister Justin Trudeau said that it will once again allow freedom of movement for vaccinated leisure travellers from the US beginning on 9 August. Restrictions for other international travellers who are fully vaccinated will ease on 6 September.
The National Airlines Council of Canada (NACC) says on 19 July that while the opening is a step in the right direction, more action is needed.
"As an industry, we have been calling on the government for months to provide a clear restart plan utilizing science-based measures," says Mike McNaney, NACC's chief executive. "But as the new measures take effect, we still firmly believe the government must take further steps."
NACC says Ottawa must follow a government health panel's recommendations from May which include lowering quarantine duration for non-vaccinated and partially vaccinated travellers, and implementing a more rigid testing regime.
"We will be ready for August and September," McNaney says. "But further policy changes will ultimately be needed to support the successful re-start of the industry and the tens of thousands of aviation jobs that have been impacted by the pandemic."
Meantime, Chicago-based carrier United Airlines says on 19 July that it will also expand its offering from the US to Vancouver and Toronto following the Canadian government's announcement.
Air Canada will report second quarter results on 23 July.