Air Canada is reinstating numerous international routes as the government of Canada begins to tentatively relax coronavirus-driven rules for inbound travellers.
The Montreal-based airline will resume 17 routes to 11 destinations in the coming weeks and is "considering additional routes as restrictions continue to loosen", it says on 6 July.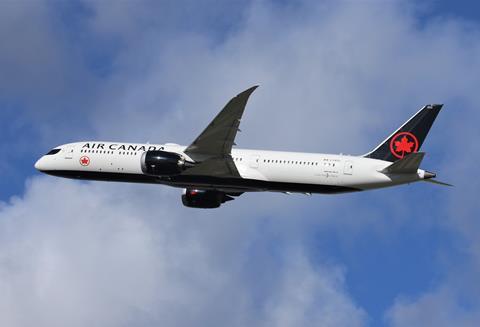 "As travel restrictions ease across the globe, we are committed to rebuild our international network and continue as a global carrier to connect Canada to the world, while also developing additional markets and targeting new opportunities," the airline's senior vice-president of network planning and revenue management Mark Galardo says.
The carrier will bring back four-times weekly flights between the western Canadian city of Calgary and Frankfurt from 1 August, in addition to direct flights to Geneva, Tel Aviv and London from Montreal, and to Vienna, Dublin, Paris and Zurich from Toronto. Those routes will begin to return from 21 July.
"Air Canada has already resumed flights to Greece, United Arab Emirates (UAE), Italy, Spain, United Kingdom and Morocco, and will increase frequencies in some of these destinations as of August," the carrier adds. It recently launched a flight connecting Montreal to Cairo.
The airline continues to operate international service to Brussels, Bogota, Doha, Hong Kong, Seoul, Shanghai and Tokyo, it says.
News of the resumed routes comes one day after the Canadian government eased restrictions for Canadian citizens and permanent residents returning from overseas. Upon the recommendation of a government health board in May, the mandatory 14-day federal quarantine requirement – in place since January – has been abandoned. In its place the government says it will focus more on testing and allowing vaccinated travellers more freedom of movement.
It is still unclear when the country will begin allowing non-citizens and non-residents to enter.
The US-Canada border has been closed for non-essential travel since March 2020, with no indication when it will open. Travel trade groups on both sides of the border have repeatedly appealed to the two governments to re-open the frontier.
On 5 July, Canadian regional carrier Porter Airlines which operates routes in the eastern part of the country and the northeast USA, said it plans to re-launch operations in September, following an 18-month hiatus.