Air Canada will reinstate some international connections in an effort to repatriate citizens who have become stranded overseas as a result of the global coronavirus pandemic.
The Montreal-based flag carrier says it will operate six flights to destinations in Spain and South America to pick up travellers who have been stuck there since much of global aviation shut down in the past week.
"Several hundred Canadians trapped in Peru, Ecuador and Spain since the imposition of restrictive travel measures by the authorities will finally be able to return home," Calin Rovinescu, the flag carrier's chief executive says on 23 March. "Air Canada remains fully mobilised [in] dealing with this global health crisis and we have committed to keep operating internationally, transborder to the US and across Canada to allow people to return to Canadian soil as quickly as possible."
The carrier also commits to transporting needed cargo, including emergency supplies.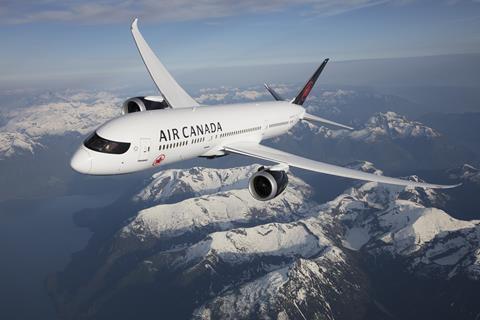 Air Canada says that although it has substantially drawn down its network, in the past week it brought more than 200,000 Canadians back to Canada from all over the world. By the end of March, the carrier says it will have operated more than 300 flights from international airports and 850 flights from US airports.
The airline says it will maintain some transborder and international flights after 1 April "to maintain a number of 'air bridges' to facilitate essential travel and ensure the continued movement of emergency supplies and other vital goods".
On 20 March, Air Canada temporarily laid of 5,100 cabin crew as it reduced capacity. Like many of its peers, Air Canada withdrew earnings guidance for 2020 and 2021.
Earlier on 23 March, vacation specialist Air Transat said it was laying off 70% of staff as it shutters operations for the entire month of April. Since 18 March, Air Transat had brought some 40,000 customers back to Canada from Transat's destinations outside Canada. Some 25,000 customers remain outside the country, Transat says.
Canadian carriers Sunwing Airlines and Porter Airlines have also announced operational halts. The country's airline industry has requested government aid.
The coronavirus hit as Air Canada was preparing to close a planned purchase of Transat for C$720 million ($498 million). The companies had expected to close that deal around the middle of the year.