Air China and Hainan Airlines plan to expand their schedules between the USA and China after that country's government relaxed Covid-19-driven entry requirements.
The two Chinese carriers submitted new schedules to the US Department of Transportation (DOT) in a regulatory filing on 4 January.
Air China will be offering more flights between Los Angeles and the Chinese capital beginning on 8 January, the date the Chinese government has set to lift quarantine rules and most of its travel restrictions, and expanding to daily service later in the month.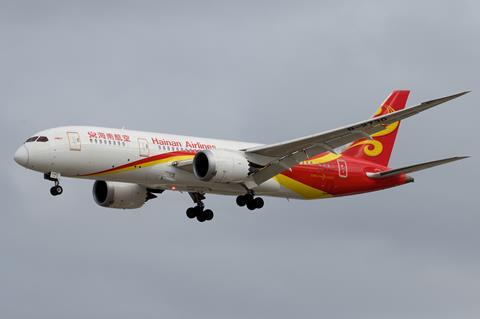 That carrier will resume direct flights between Beijing and New York's John F Kennedy International airport from 18 January, while four-times-weekly flights to San Francisco will return on 1 March. The airline will also restart thrice-weekly flights to Washington DC's Dulles International airport on 2 March.
Hainan Airlines is resuming flights between Boston and Seattle in the USA and Beijing, as well as flights to Shanghai and Chongqing from 17 February.
US airlines, meantime, are biding their time and currently have no plans to expand their services.
United Airlines, which is currently operating four-times-weekly service between San Francisco and Shanghai with a stopover in Seoul, said on 27 December that it was "currently evaluating the market demand and operating environment to determine when it's right for us to resume additional flight operations to mainland China".
Delta, meanwhile, did not comment on the new Covid-19 policy last week, or what changes it plans to make to its schedule. Prior to the pandemic, the airline operated flights to China from Atlanta, Detroit, Seattle and Los Angeles.
On 4 January, neither carrier communicated any further schedule changes.
Beijing on 26 December said it will drop the measures later this week, in what is likely to spark a sharp capacity uptick from airlines around the world. China's opening follows a broader North Asia reopening in late 2022, which saw neighbouring North Asian countries such as Japan, South Korea and Taiwan drop their travel restrictions.
Most flights between China and North America were suspended in early 2020 when Covid-19 tore around the world, creating a precipitous drop in demand for long-haul international travel. For most of the past almost-three years, Beijing had a "zero-Covid" policy in place, characterised by mass lockdowns and endless rounds of testing for Covid-19 – carrying a devastating economic cost. The government now contends that the Omicron variant of Covid-19 is less harmful than previous ones.