Air New Zealand has outlined its operations under a bilateral "safe travel zone" arrangement that allows one-way quarantine-free travel from New Zealand to Australia, starting 16 October.
The carrier currently operates eight return flights between Auckland and Sydney each week, and is looking to operate six of these as quarantine-free flights.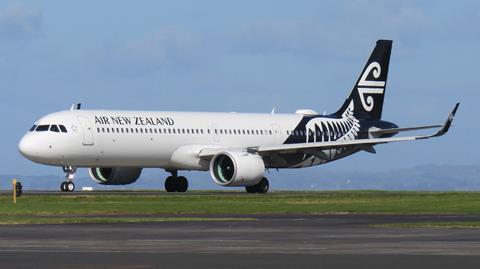 Air New Zealand's chief executive Greg Foran says that defining quarantine and quarantine-free flights are key to carrying passengers safely and identifying those with travel not originating in New Zealand.
"The quarantine-free flights will be for travellers originating from New Zealand who are flying from Auckland to Sydney and are not required to quarantine on arrival in Australia. Quarantine flights will be open to passengers who do not meet the 'Safe Travel Zone' criteria and will be required to quarantine on arrival in Australia."
Passengers travelling from New Zealand will have to declare that they were in New Zealand the 14 days before travel and are subject to health screening upon arrival in Sydney.
At the initial stage, this arrangement only allows for travel to Australia's New South Wales, where Sydney is the state capital, and the Northern Territory.
Under Australian State restrictions, Air New Zealand is not taking bookings for travel beyond Sydney to destinations within Australia.
Separately, the New Zealand government requires returning travellers to quarantine for 14 days upon arrival.
According to Australia's Department of Home Affairs, travel under the "safe travel zone" arrangement is open to individuals who have been in New Zealand for 14 days or more and have not been in a designated hotspot, and who are travelling to Australia on a flight that carries such individuals, defined as a quarantine-free flight.
Australia defines a hotspot using a three-day rolling average of three locally acquired Covid-19 cases per day, and as of 15 October, there are no hotspots in New Zealand, according to the Department.
These are the only criteria and travellers need not be a citizen of New Zealand to travel under the arrangement quarantine-free.
Upon arrival in Australia, passengers will be separated into green and red zones at the airport, demarcating quarantine-free flights and travellers subject to a mandatory 14-day quarantine.
The office of Australia's prime minister said in a 2 October press release about the arrangement: "This is the next step for a Covid-safe Australia that will reunite families and friends, offer opportunities for businesses looking for workers, and back the communities that depend on tourism."
It adds: "We are committed to opening up both domestic travel within Australia and travel with New Zealand, as well as other low-risk countries as soon as the health advice says it is safe to do so."
Australia also expects the arrangement to free up space for around an additional 325 passengers a week to enter quarantine in Sydney.