Air travel demand remained sharply down in November, IATA's latest industry statistics show, as resurgent Covid-19 cases and renewed travel restrictions battered passenger confidence.
Demand as measured by revenue passenger-kilometres fell 70.3% in November compared with a year earlier, a similar decline to the 70.6% fall recorded in October.
Capacity in the month was down 59% annually, while load factors declined by 23 percentage points to 58%, a record low for the month.
International services were hardest hit, falling 88% against a year earlier, with capacity cut 77%.
Even domestic demand, which has been seen as a relative bright spot for the industry, declined 41% on the previous year. Capacity was down 27% and load factors fell by 15.7 percentage points to 66.6%.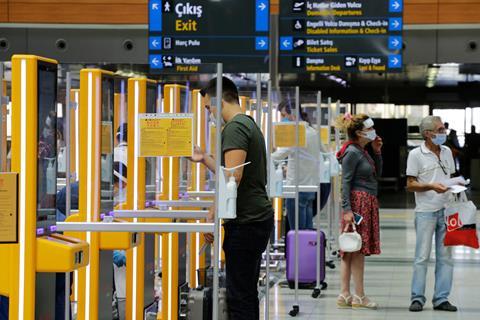 The only glimmers of hope were in China, where domestic traffic as measured by RPKs fell only 4.8%,. Domestic Russian traffic was down 23%. In all other regions domestic demand declined by more than a third, including a 60% fall in the USA.
"The already tepid recovery in air travel demand came to a full stop in November," states IATA director general Alexandre de Juniac. "That's because governments responded to new outbreaks with even more severe travel restrictions and quarantine measures."
He adds: "This is clearly inefficient. Such measures increase hardship for millions. Vaccines offer the long-term solution. In the meantime, testing is the best way that we see to stop the spread of the virus and start the economic recovery."
In international markets, Asia-Pacific showed the greatest yearly decline in passenger traffic, with RPKs down 95% from November 2019 levels, with capacity cut by 87% and load factors falling to 31.6%. Passenger traffic fell by 87% in Europe and 83% in North America.