AirAsia X expects the reopening of China's borders to "accelerate" its recovery to pre-pandemic operations, as it sees significant traffic growth in the October-December quarter of 2022.
The Malaysia-based medium-haul unit of AirAsia Aviation Group says travel recovery "gained momentum" as key markets reopened in time for the year-end peak travel period.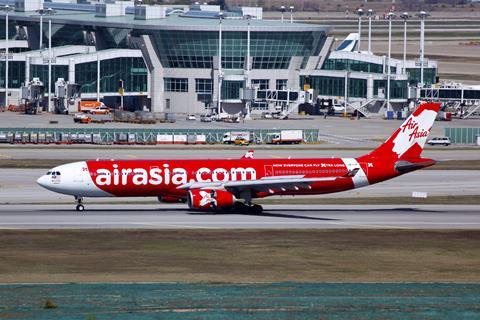 It adds: "With the re-opening of the China borders, AirAsia X is well poised to accelerate its recovery to pre-Covid levels."
China had been a significant market for AirAsia X pre-pandemic, with the airline operating flights to cities in northern, central and eastern China such as Beijing, Hangzhou and Xian.
AirAsia X had in November 2022 said it expects to restore its pre-pandemic network by this year, with its operating fleet set to double by the middle of the year.
The optimistic outlook comes as the airline, which exited restructuring in 2022, gradually restores its network amid a resurgence in travel demand.
For the quarter to 31 December, AirAsia X Malaysia carried close to 338,000 passengers, more than four times the number it carried in the preceding quarter. Traffic jumped five-fold, while capacity grew four times quarter on quarter. AirAsia X did not provide a year-on-year comparison owing to a change in its financial year.
The carrier also points to its "focus on flying the most popular and profitable routes first as a priority post-pandemic" as a reason for the traffic improvement.
During the quarter, AirAsia X relaunched operations to Melbourne, Perth, Tokyo-Haneda, Sapporo, Taipei, Jeddah and Bali-Denpasar, on top of launching new flights between Sydney and Auckland.
"On the back of significant pent-up demand for great value medium-haul travel since the inauguration and following the pandemic, additional frequencies have been incorporated into a number of top-tier routes," the airline adds.
As at end-December, AirAsia X had 14 A330s in its fleet, of which seven were in service.