AirAsia Aviation Group expects the number of weekly flights from Singapore to surpass pre-pandemic numbers by the end of the year, as it looks to – for the first time – operate widebodies on flights to the city state.
Disclosing the forecast on 15 September, chief executive of parent company Capital A Tony Fernandes says AirAsia units are at present operating around 180 weekly flights to points in Malaysia, Indonesia, Thailand and the Philippines, or about 60% pre-Covid-19 levels.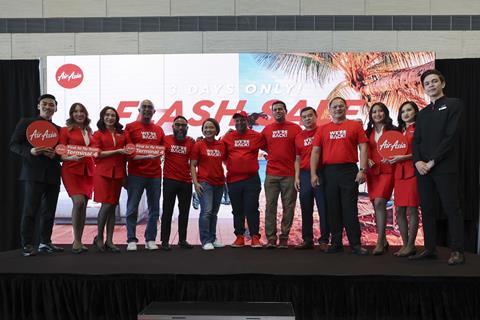 Pre-pandemic, AirAsia units were operating more than 350 weekly flights, notes Fernandes, who was speaking in Singapore, where AirAsia Aviation marked its return to Changi Airport's Terminal 4.
The terminal building was shut amid falling traffic during the pandemic, with AirAsia Aviation moving operations to Terminal 1. It is the third airline group to return to Terminal 4, days after Hong Kong's Cathay Pacific and Korean Air. Other carriers expected to return to the terminal include Vietnam Airlines, as well as China's Juneyao Air.
Calling Singapore an "integral market" for the airline group, Fernandes likens the return to Terminal 4 operations to "a bit like coming home".
"This is an airport that we've always wanted others to model [upon]. It allows us to have a very efficient cost base, and allows us to be very quick, and [it] has fully utilised all of our own digital capabilities as we move forward," Fernandes says.
Adds AirAsia Aviation CEO Bo Lingam: "[The] improved efficiencies align perfectly with our quest to maintain the lowest cost structure and deliver on our vision of contactless and seamless travel."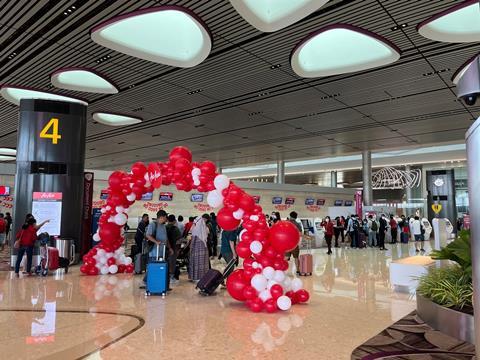 The group carried around 4.5 million passengers, and operated 12 aircraft, to/from Singapore in pre-pandemic 2019. This year, it targets around 3.5 million passengers through Singapore, with Fernandes not ruling out deploying "more, larger A330s".