Airlines have expressed disappointment in the UK government's sudden decision to remove Spain from its travel corridor list less than three weeks after lifting quarantine restrictions on arrivals from the country.
The UK Department for Transport unexpectedly announced on 25 July that from midnight travellers arriving from Spain would once again have to self-isolate for two weeks. The UK Foreign and Commonwealth Office simultaneously advised against "all but essential travel" to mainland Spain.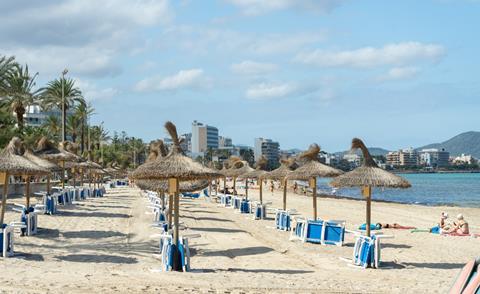 The government says its decision to remove Spain from a list of more than 50 countries exempt from quarantine restrictions was based on "a significant change over the last week in both the level and pace of change in confirmed [Covid-19] cases".
Share prices of airlines that operate between the UK and Spain dropped after the news broke. Operators including TUI Group and EasyJet saw more than 10% wiped off the value of their shares when markets opened on 27 July.
A number of airlines have expressed dismay at the sudden rule change, after having only recently resumed flights between the UK and Spain.
British Airways says its flights to and from Spain will continue to operate but it is "disappointed" that quarantine has been reintroduced for arrivals from the country.
"This is sadly yet another blow for British holidaymakers and cannot fail to have an impact on an already troubled aviation industry," adds BA.
EasyJet also says it is "disappointed" but will continue to operate its full schedule "in the coming days". The UK-based low-cost carrier questions the decision to "impose a quarantine requirement for those travelling from the whole of Spain, since the increased occurrence of coronavirus is regional rather than nationwide".
The recent spike in Covid-19 cases in Spain has largely been recorded in the region surrounding Barcelona.
"Customers who no longer wish to travel can transfer their flights without a change fee or receive a voucher for the value of the booking," says EasyJet.
It adds that "should any flights be cancelled for later in August, customers will be notified and informed of their options". These options will include transferring to another flight without charge, receiving a voucher, or applying for a refund.
Ryanair likewise says its flights between the UK and Spain "are operating normally". Leisure operator TUI UK, meanwhile, has taken a different approach.
"Due to the travel advice change against all but essential travel to mainland Spain, TUI UK has taken the decision to cancel all holidays to mainland Spain up to and including 9 August 2020," says the company.
However, TUI will continue to operate flights to Spain's Balearic and Canary islands. The islands do not fall under the FCO advice against non-essential travel but travellers must still self-isolate when they return to the UK.
"Customers due to travel to all areas of Spain between 27 July and 9 August will be able to cancel or amend holidays and will be able to receive a full refund or the option to rebook their holiday with a booking incentive," says TUI. Customers who are already in Spain "will return on their intended flight home".
TUI is urging the UK government to "work closely with the travel industry", arguing that "this level of uncertainty and confusion is damaging for business and disappointing for those looking forward to a well-deserved break".
Trade body Airlines UK is calling on the government to consider "regional travel corridors" that focus on specific areas where there have been upticks in coronavirus cases, rather than placing restrictions on entire countries.
"We also need the introduction of testing at UK airports so that those [who are] Covid negative can continue to travel without the need to self-isolate upon arrival," says Airlines UK, adding that it will "continue to work with government to protect public health whilst keeping air travel open".