As traditional US summer holiday spots like Florida and Las Vegas begin loosening restrictions after an almost-three-month coronavirus-forced hibernation, airlines are seeing passenger interest rise to these destinations, but also across their networks.
The Walt Disney collection of amusement parks, located near Orlando in central Florida, and gaming hotels in Las Vegas, Nevada are some of the most popular US domestic holiday destinations. Airlines that serve those cities are reacting to the phased re-openings of these businesses by increasing frequencies from around the country to make sure travelers can get there in time.
"We have seen an uptick in bookings [to Las Vegas] since the governor's announcement of resorts re-opening," ultra-low-cost carrier Allegiant Air tells FlightGlobal on 1 June. "Just as demand for western Florida and the panhandle have been trending up as the communities have announced re-openings, we'd expect to see upward movement for Las Vegas and Orlando – traditionally strong markets which have been the slowest to rebound – with the successful re-opening of the Strip and Walt Disney World."
Hotels on the "Strip" – a long thoroughfare in the middle of Las Vegas where most casinos are located – as well as across the region will be permitted to re-open on 4 June, with numerous properties taking full advantage and announcing they will begin doing business just after midnight.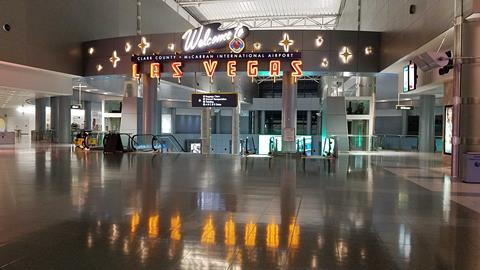 In Orlando, some amusement venues have opened their doors to the public already, with others opening in the course of the next two weeks. The city's Walt Disney World theme parks are setting up to re-open from 11 July.
Both cities imposed orders closing the resorts, hotels, parks and casinos in mid-March, effectively choking off most travel and shutting down their tourism-reliant economies. In addition to vacationers, the two cities are also popular destinations for trade fairs and company outings. At the moment, however, there is no indication when the business travelers will return.
Derek Stevens, owner of the D Las Vegas Hotel and Casino offered 2,000 free one-way flights from cities across the country to Las Vegas between 3 June and 12 June to support the city's re-opening. Shortly after the announcement, the casino received more than 12,000 requests.
"We are just trying to do our share to keep America flying and keep Las Vegas rolling," Stevens said in a video message on the casino's website.
Dallas-based Southwest Airlines, the biggest carrier in and out of Las Vegas' McCarran International airport, said it is operating "a little more than 100 flights" per day, about half of what it would be offering during peak travel periods.
"We are monitoring demand and will add extra flights should it become necessary to ensure we're booking roughly two-thirds of a flight so that we can leave the middle seats open," the airline says on 1 June. Southwest has committed to leaving the middle seat on its all-Boeing 737 fleet free until the end of July.
Delta Air Lines, the second largest carrier to Las Vegas, says that in May the airline operated ten daily flights to Las Vegas from hubs around the country. That number will rise to 11 in June and 18 in July, the Atlanta-based airline says. Last month, the carrier announced that it was reinstating flights to more than 100 destinations in June after it saw small increases in leisure bookings for domestic travel to vacation destinations.
"People are booking on the expectation and hope that things will get better," Delta's chief financial officer Paul Jacobsen said on 19 May.
European airlines also expect to be returning to both Orlando and Las Vegas in the coming weeks. According to Cirium networks data, British Airways, Virgin Atlantic, Condor and Edelweiss will offer direct flights from the UK and Europe beginning in June and July.
The Transportation Security Administration (TSA), which oversees security screenings at 450 US airports, said passenger numbers are slowly rising from a low of just 87,534 travelers screened on 14 April to 352,000 passengers on 31 May. That is the highest number since the beginning of the coronavirus pandemic crisis in March, but still far lower than last year's count of 2.5 million on the same day.