Airlines are expected to operate around half the scheduled flights planned for Kazakhstan today as the closure of Almaty airport amid protests in the country continues to impact services.
Air services have been disrupted since protests erupted in the country a week ago, and the airport in Almaty, where much of the unrest has been focused, remains closed until further notice.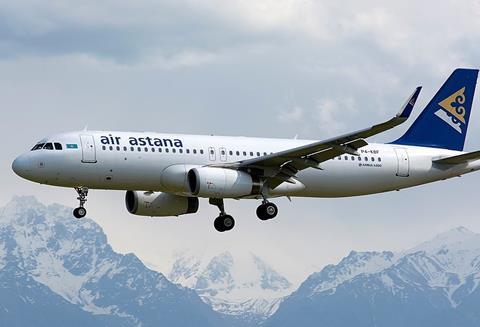 Kazakhstan's Ministry of Industry and Infrastructure Development says that its four domestic carriers were due to operate 194 flights today. It says 102 of these have been cancelled.
"The main reasons for the delays and cancellations of flights are the closure of the airport in Almaty," it says.
The majority of flights scheduled, 134, are operated by Air Astana and its low-cost unit FlyArystan. Air Astana only resumed flights from the capital's Nur-Sultan airport on 7 January.
The group says Air Astana will serve seven international destinations – Antalya and Istanbul in Turkey, Dubai, Frankfurt, Moscow, Phuket and Tashkent – from Nur-Sultan today, as well as six domestic routes. Its low-cost unit FlyArystan will operate four international and 10 domestic routes.
"Air Astana Group is maximising efforts to repatriate Kazakh travellers who have faced difficulties returning to the country over the past week," it adds.
Two other Kazakh carriers, SCAT and Qazaq Air, were scheduled to operate 37 and 22 flights respectively today before cancellations.
In a separate statement the Kazakh industry ministry also says international carriers will operate 34 of their scheduled flights to Kazakhstan today, but that 18 flights have been cancelled.