Allegiant Air will launch 34 new nonstop routes to domestic leisure destinations as the airline continues to plan for customers to return in larger numbers during the summer travel season.
The Las Vegas-based airline says on 9 February that it is expanding its point-to-point schedule to and from mainly secondary cities, a strategy that has brought the ultra-low-cost airline success in the past. The flights will launch in May, June and July.
"As summer approaches, we expect a lot of pent-up demand for travel, especially for places where people can hike, fish, camp or visit the beach," says Drew Wells, Allegiant's senior vice president of revenue. "With this expansion, we've added even more service to destinations known for their outdoor appeal."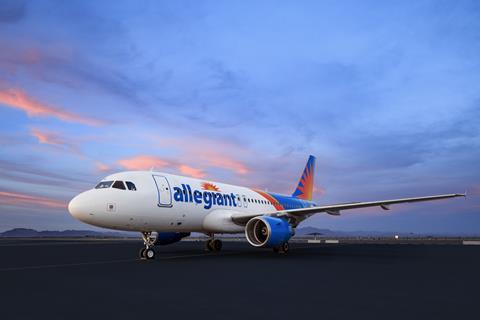 The carrier will be adding flights to airports near popular beaches and theme parks, for example in Georgia, Texas and Florida, but also those near national parks and wilderness areas, like Bozeman, Montana, Boise, Idaho and Bangor, Maine.
In addition, the airline will offer nine dedicated routes to Rapid City, South Dakota in August, for participants of an annual motorcycle rally in the region that attracts up to 500,000 people. In 2020, that rally was deemed responsible for one of the biggest coronavirus outbreaks in the USA.
The expansion comes despite the fact that the global pandemic is still far from over. Vaccination roll-out in the US has been spotty and slower than expected. Still, airlines say they are preparing for a busier summer, with potential customers tired of sheltering in place for what will have been more than a year.
The ultra-low-cost airline, which is known for connecting secondary cities and airports to warm-weather vacation spots on point-to-point routes for cost-conscious leisure travellers, said on 3 February during its fourth-quarter earnings call that it believes it will be one of the first US airlines to pull out of the stall brought upon by the global pandemic.
Allegiant offers routes often not served by any other carriers, on the four or five days of the week - around the weekend - when travel volume is highest.
Executives said last week that they see a recovery "on the horizon" as travellers begin to plan again, and further into the future. According to surveys the carrier recently conducted amongst customers and potential customers, about half said they intended to travel this spring, and two-thirds altogether plan to do so into the summer.