American Airlines and JetBlue Airways have unveiled new routes as they begin to consummate their strategic partnership.
The carriers are introducing 33 new domestic routes and will code share on 50 routes from Boston and New York's John F Kennedy (JFK) International airport, the airlines say. This is the first step of an expansive collaboration announced last July that focuses on the Northeast USA.
New York-based low-cost carrier JetBlue says the so-called "Northeast alliance… opens new growth opportunities for both carriers by finding ways to better utilise existing gates and slots in congested Northeast airports". It will also eventually allow customers to collect points on either carriers' loyalty programmes and reduce transfer times, the carriers add.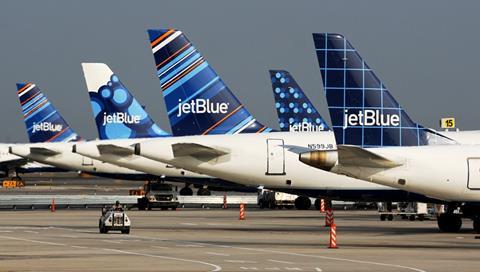 As part of the deal, Fort Worth-based American is introducing 18 new seasonal summer routes that will launch in May and June, including six from JFK to new destinations in Latin America and the Caribbean.
"This is the first step to delivering the best customer proposition with the biggest network in New York and Boston," says American's chief revenue officer Vasu Raja. "In the months ahead, we'll continue to create a seamless experience that's easy for our customers, supports our communities and leads to more growth for our team."
"The alliance is also essential to getting our planes back in the air profitably and crew members working again," says JetBlue's head of revenue and planning Scott Laurence.
JetBlue says the codeshares will begin on 25 February and will be bookable from 18 February.
More than two dozen American routes will carry JetBlue's code, and more than four dozen JetBlue routes will carry American's, JetBlue says. The airlines will expand their code share partnership to more markets through mid-year.
American will launch three new daily routes from New York to Colombia (Cali, Bogota and Medellin); thrice-weekly service to Santiago, Chile; and flights to the Caribbean sun destinations St. Lucia and Turks and Caicos. Latin America and the Caribbean has traditionally been among American's strongest markets.
The two airlines announced their codeshare plans last July, and the proposition was approved by the US Department of Transportation (DOT) on 12 January. Competing low-cost carriers Spirit Airlines and Southwest Airlines protested the deal, claiming it would hinder competition.
As part of the approval, the airlines agreed to divest seven slot-pairs at JFK and six at Washington's Ronald Reagan National airport. Should the airlines fail to reach capacity targets in the coming years they may lose another ten slots at JFK.
PILOTS PUSH BACK
The venture also faces internal opposition.
On 17 February, JetBlue's pilots, represented by union Air Line Pilots Association, International (ALPA), rejected a tentative agreement that would "have given [JetBlue] contractual relief in order to implement" the American partnership.
Of 92% of pilots who voted, 54% rejected the deal, ALPA said. The union's existing agreement with JetBlue includes provisions "that restrict the types of code-share and joint-venture arrangements JetBlue may undertake". The tentative deal would have eased those restrictions for 10 years in exchange for additional pay and job security.
American's pilots blasted the venture last July, criticizing the deal because it came just days after American warned it might furlough 2,500 pilots due to the pandemic. At the time, JetBlue and its pilots had reached an agreement that protected pilot jobs.