American Airlines and JetBlue Airways are to form a "strategic partnership" under which they propose to operate codeshare flights and reciprocal frequent flier benefits.
The agreement will help the airlines weather the industry downturn. It will focus on flights in the Northeast USA, particularly in Boston and New York, say the carriers.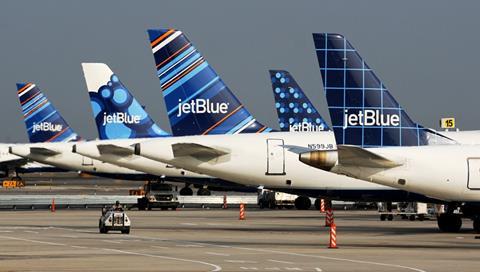 News of the arrangement comes the day after American notified some 25,000 employees that they could soon be laid off. US carriers have said they may need to reduce their workforces 30% or more to adapt to the coronavirus-induced industry downturn.
JetBlue is not joining the Oneworld alliance, of which American is a leading member.
American tells FlightGlobal the airlines will begin implementing the agreement after they "feel comfortable with regulatory review". They will begin codesharing in phases.
The carriers say their partnership will "create seamless connectivity for travellers in the Northeast and more choice for customers across their complementary domestic and international networks".
"In addition, the relationship will accelerate each airlines' recovery as the travel industry adapts to new trends as a result of the pandemic," they say.
The partnership proposes codeshares and linked customer-loyalty programmes, though details of changes to frequent-flier plans are scarce.
The codeshares will bring 60 new American routes into JetBlue's network and 130 JetBlue routes into American's operation, and allow customers to book those flights via either airline.
That arrangement will, according to the companies, allow for "improved schedules, competitive fares and nonstop access to more domestic and international destinations".
American says that, when the deal is implemented, it will launch flights from New York JFK International airport to Tel Aviv, and seasonal JFK-Athens flights – American's first international flights from New York in four years. American also intends in 2021 to launch new flights to Rio de Janeiro.

JetBlue is the top carrier at JFK, operating 42% of seats from the airport in July, according to Cirium schedules data. Delta Air Lines is second with 23% of seats, and American third with 9%. In the early 2000s American was a far larger player at JFK, carrying 20% of available seats, data shows.
"Once the coronavirus pandemic has ended, the new partnership is certain to facilitate American adding new long-haul markets in Europe, Africa, India and South America," American says.
JetBlue says that, through the arrangement, it intends to add more flights from New York's three major airports – JFK, La Guardia and Newark. More flights at JFK will allow "seamless connections to American's expanded international network".
Citing JetBlue's popularity among leisure travellers, American chief revenue officer Vasu Raja calls JetBlue's network a "perfect fit".

JetBlue chief operating officer Joanna Geraghty says aligning JetBlue's domestic network with American's international presence "creates a new competitive choice in the Northeast, where customers are longing for an alternative to the dominant network carriers".
"This partnership with American is the next step in our plan to accelerate our coronavirus recovery, get our crew members and our aircraft flying again, and fuel JetBlue's growth into the future," Geraghty says.