American Airlines intends to axe routes to 15 destinations, as it begins trimming its network due to the expiration of government aid and a lack of demand for air travel.
To take effect on 7 October, the cuts affect cities that Fort Worth, Texas-based American serves exclusively via regional airline partners.
The destinations are all secondary cities, mostly in the central and eastern parts of the country, a sign that small markets will initially suffer most from the industry downturn.
American's partner airlines Envoy Air, Mesa Airlines, Piedmont Airlines, Republic Airways and SkyWest Airlines serve the cities, according to Cirium schedules data.
American will cut these 15 secondary cities from its schedules starting 7 October
City name
Operating airlines
Aircraft type
Del Rio, Texas
Envoy Air
ERJ-140
Dubuque, Iowa
Envoy Air
ERJ-145
Florence, South Carolina
Piedmont Airlines
ERJ-145
Greenville, North Carolina
Piedmont Airlines
ERJ-145
Huntington, West Virginia
Piedmont Airlines
ERJ-145
Joplin, Missouri
Envoy Air / Mesa Airlines
ERJ-140/-145 / CRJ900
Kalamazoo/Battle Creek, Michigan
Envoy Air
ERJ-145
Lake Charles, Louisiana
Envoy Air
ERJ-140/-145
New Haven, Connecticut
Republic Airline
E175
Stewart, New York
Piedmont Airlines
ERJ-145
Roswell, New Mexico
SkyWest Airlines
CRJ700
Sioux City, Iowa
Envoy Air
ERJ-145
Springfield, Illinois
Envoy Air
ERJ-140
Stillwater, Oklahoma
Envoy Air
ERJ-140
Williamsport, Pennsylvania
Envoy Air / Piedmont Airlines
ERJ-145
Source: Cirium schedules data
Those airlines will operate a combined 780 flights to those cities in August, data shows, using a mix of Embraer 175s, ERJ-140s/-145s and Bombardier CRJ700s and CRJ900s, according to schedules data.
The cuts initially run only through 3 November and reflect "low demand and the expiration of the air service requirements associated with the" relief package, American says. "This is the first step as American continues to evaluate its network and plans for additional schedules changes in the coming weeks."
American says it will "continue to re-assess" cities in its network in light of a possible extension of government aid. It expects to release an updated November schedule by the end of September.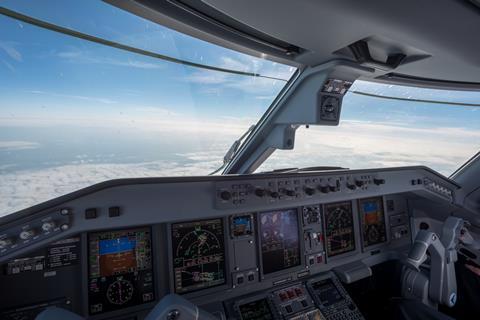 Airline and labour groups have been calling on the US government to pass another financial support package.
The initial government aid package, finalised in March, set aside $58 billion for the airline industry, including $29 billion earmarked to pay employee wages and benefits. Airlines took the aid, which included provisions prohibiting them from cutting routes or laying off workers until after 30 September.
With route cuts looming, US airlines have also warned thousands of employees that they might lose their jobs after 30 September.
The downturn has already forced the closure of US regional carriers Compass Airlines and Trans States Airlines. The future of a third, ExpressJet Airlines, also came into doubt when United Airlines said in July it was severing ties with the operator.