American Airlines has further slashed international capacity following increased US travel restrictions for foreign nationals, as the US government attempts to slow the spread of the coronavirus within the country.
The Fort-Worth-based airline says on 12 March that it will reduce international capacity by 34% during the peak summer travel season, including a 50% reduction in transatlantic capacity for the month of April.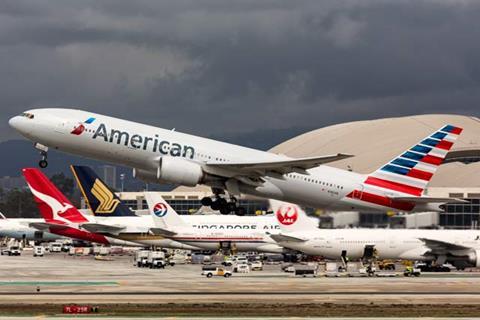 The move comes just a day after US president Donald Trump announced a blanket travel ban for non-US citizens and non-permanent residents coming from Europe, which will go into effect on 13 March. The airline cites a sharp decline in demand for all of these flights.
American says it will continue to operate regular service for the next seven days between its hubs Dallas/Fort Worth International airport, New York's John F Kennedy International airport and Miami International airport to Barcelona, Paris and Madrid in order to enable travelers and employees to return home.
All flights from Charlotte and Philadelphia to European destinations will be suspended since those two US cities are not on the list of government-approved gateways into the US. Service to London Heathrow will also be reduced or completely suspended, and the start of seasonal service to several destinations will be delayed until May, the airline says.
The airline will also stop flying to numerous destinations in South America, traditionally its strongest region. Flights to Buenos Aires and Cordoba, Argentina as well as to Sao Paolo and Santiago will be suspended.
On a bright note, the airline says that the suspended flights could resume as early as 7 May.
The travel ban, announced by Trump in a speech from the Oval Office, surprised and angered European leaders, who had received no prior warning. Airlines are now scrambling to assist passengers in changing travel plans at short notice, with call centers and online portals overwhelmed by the demand for customer sevice. Many carriers have waived change fees and are offering flexible rebooking policies.
Earlier in the day the three major US airlines, American, United and Delta, said they would be capping airfares for travelers from Europe who are looking to return quickly to the US ahead of the introduction of the restrictions. Passengers looking for westbound tickets reported massively inflated prices early on Thursday as demand for seats spiked overnight.
These three carriers alone operate more than 200 daily flights between the USA and mainland Europe.