American Airlines has reduced international flying next summer due to delayed deliveries of widebody Boeing 787 Dreamliners.
"Boeing continues to be unable to deliver the 787s we have on order, including as many as 13 aircraft that were slated to be in our fleet by this winter," the Fort Worth-based company's chief revenue officer Vasu Raja writes in a note to staff on 9 December
"Without these widebodies, we simply won't be able to fly as much internationally as we had planned next summer, or as we did in summer 2019," he adds.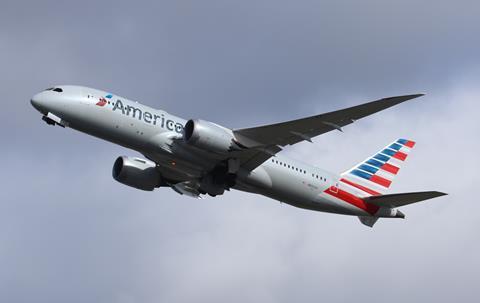 In October, American had already pulled the jets from its fourth-quarter 2021 and first-quarter 2022 schedule.
Destinations to be cut completely next summer include Edinburgh, Shannon, Dubrovnik, Prague and Hong Kong. The company also will "temporarily, but significantly" reduce frequencies to Shanghai, Beijing and Sydney.
"American has also adjusted operations on some existing Asia and South America routes and reduced frequencies," the airline adds in a media release.
The carrier will also not launch planned flights from Seattle to Bangalore. It still intends to start direct service from New York's John F Kennedy International airport to Doha, Qatar in June, coinciding with the World Cup international soccer championship.
According to Cirium fleets data, the carrier has 45 of the type in operation, and an additional 43 on order from Boeing.
In contrast to 2021, American intends to deploy all its widebodies on long-haul international routes and will not assign any exclusively to domestic or short-haul international routes, Raja adds.
Despite 787 delays, the company says it stands by the aircraft.
"We still have great confidence in the Dreamliner and continue to work with Boeing on when these planes can be ultimately delivered," Raja adds. "Boeing has advised us that they will compensate American for their inability to deliver the aircraft."
Boeing has paused 787 deliveries due to quality and production issues, including those affecting the jets' composite fuselages. Boeing halted 787 deliveries from October 2020 to March, saying "skin flatness" on undelivered jets did not meet precise tolerances.
The company then halted deliveries again in May 2021 after the FAA requested more information before approving a Boeing-proposed algorithm. That algorithm was related to inspecting 787s for what the FAA called a fuselage "shimming" issue. Shims can be used to address skin-flatness issues.
Other 787 production problems cropped up in recent years. In September 2020, Boeing said it discovered that some 787 horizontal stabiliser components had been "clamped together with greater force than specified".
Last month, US lawmakers asked the Department of Transportation's top inspector to conduct a review of the FAA's oversight of the manufacture and production of the 787.