American Airlines is expanding international service from its Miami hub, with new direct flights to Tel Aviv and Paramaribo, Suriname, set to launch in June and July, respectively, as well as increasing frequencies across its traditionally extensive Latin American network.
The Fort Worth-based airline says on 8 February that its overall capacity to Latin America will be 16% above 2019 levels.
"Our new service to Tel Aviv and Paramaribo are the start of further growth in Miami, and as the city grows and expands, American will do the same," says the airline's vice-president of network planning, Brian Znotins.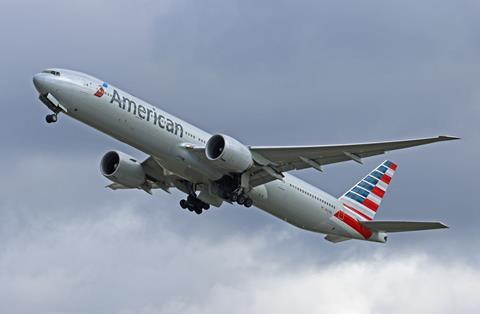 The flights to Israel begin on 4 June and operate thrice-weekly on a Boeing 777-200.
Five-times weekly service to Paramaribo, the capital of Suriname, which is located on the northern coast of the South American continent, will be flown in an Airbus A319, and begin on 1 July. It will be the ninth South American country served by American, the airline adds.
The carrier is also introducing new domestic routes between Miami and Little Rock, Arkansas, as well as Portland, Maine, which will operate during the summer travel season, and enable more passengers to use the city in South Florida as a hub to its extensive Latin American network.
"Throughout the pandemic, we have continued to strengthen our capacity in Miami to match demand in Latin America and the Caribbean," says Juan Carlos Liscano, American's vice-resident of operations for Miami, the Caribbean and Latin America.
"With new international destinations launching this year — Tel Aviv and Suriname — two new domestic destinations — Little Rock and Portland — and additional flights to key destinations in the Caribbean, we look forward to further deepening our ties to Miami," he adds.
The summer schedule includes new flights to Samana in the Dominican Republic, St. Maarten, St. Lucia as well as Merida and Cancun in Mexico.
The airline adds that capacity to Colombia and Peru will be twice what it was in 2019, and increasing more than 50% to Ecuador and 24% to Central America.