American Airlines says that it plans to fly 90% of its normal domestic seat capacity and 80% of its international capacity during the summer season as customers begin to return to air travel in greater numbers a year after the beginning of the coronavirus health crisis.
The Fort Worth-based carrier says on 14 April that it is introducing 150 new routes and "based on current customer demand projections, American intends to operate a schedule with domestic capacity almost equal to 2019".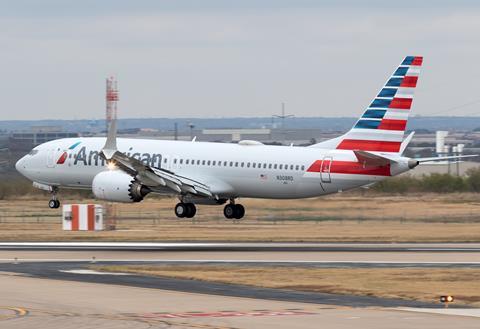 "Throughout the pandemic, our trademark has been to build a schedule based on what customers tell us they want and need," says Brian Znotins, American's vice-president of network planning. "And today, they are telling us they're eager to get back to travel."
The new routes will target leisure destinations near beaches, theme parks and national parks. Beginning on 5 June, American's customers can fly to Orlando, Florida, the location of Disney World, Epcot Center and other theme parks as well as numerous entertainment venues, from eight cities in the south-east and mid-west, including Nashville, Pittsburgh, and Birmingham, Alabama.
It is also upping its flying to popular outdoor activity destinations Asheville, North Carolina, Kalispell, Montana and Jackson, Wyoming. Those three airports are the gateways to Great Smoky Mountains National Park, Yellowstone National Park, and Grand Teton National Park, respectively.
The airline will also offer Boeing 777 wide-body transcontinental service between its Miami hub and Los Angeles as well as New York's John F Kennedy airport.
Miami will also be the starting point for increased wide-body service to numerous Latin American countries, the airline says. Flights to Cali, Colombia, Guayaquil, Ecuador, Lima, Peru, Medellin, Colombia, Port au Prince, Haiti and Quito, Ecuador will be operated on a Boeing 787-8 Dreamliner, with flights to Bogota, Colombia and San Juan, Puerto Rico will be operated on a 777-200.
The carrier said last month that it would reactivate "most" of its aircraft during the second quarter in response to stronger-than-anticipated customer demand following a year during which many potential travellers stayed away due to the coronavirus crisis.
American reports first quarter earnings results on 22 April.