American Airlines has stripped from its flight schedule two planned China routes – one to Beijing and another to Shanghai.
The airline calls the move a "pause" and says it will make more adjustments to its China flights this year.
The cuts come after carriers have in recent months been adding flights to China following the Covid-19 downturn. But airlines have also been struggling recently with crew and aircraft shortages, and demand remains below pre-pandemic levels.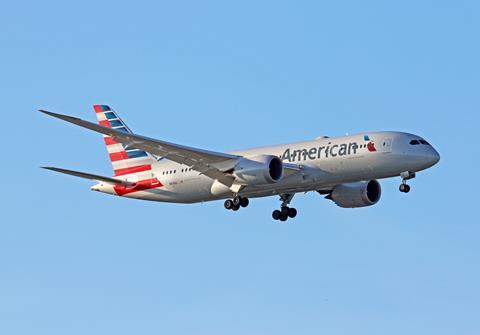 American had planned in October to begin flying two new China routes: from Seattle to Shanghai Pudong International, and from Dallas Fort Worth International to Beijing Daxing International.
The carrier has now removed both routes from its schedule, according to Cirium data and published flight schedules.
"This weekend we adjusted our winter 2023 schedule to China," American says. "We will continue to adjust schedules to China this year based on market demand and changes in government regulations."
The carrier declines to specify why it cut the China flights but adds it will continue operating its sole route to the country – from Dallas Fort Worth to Shanghai.
China this year eliminated Covid-era travel restrictions, prompting airlines to ramp up flights to the country. Air China added Beijing-Los Angeles flights, for instance, and Delta Air Lines started flying from Detroit and Seattle to Shanghai. United Airlines also launched San Francisco-Shanghai flights in January, and plans to add 10 more China routes in October, Cirium data shows.
But demand for travel to China has not recovered.
In January, trade group Airlines for America asked the US Department of Transportation (DOT) to again waive rules requiring airlines to actually fly to China and Tokyo if they hold approvals to do so. The group made the request because "international flight operations and passenger demand in these markets remain severely depressed", the DOT said.
In response, the agency extended the exemption through 28 October.
American has also been affected by Boeing 787 delivery delays, though whether that issue influenced the decision to scrap its planned China expansion remains unclear.
Boeing had halted 787 deliveries for most of the 22 months between October 2020 and last August as a consequence of quality problems. The company paused 787 deliveries again this year, though only briefly.
American holds unfilled orders for four 787-8s, Cirium data shows. It had planned to deploy that type on Dallas-Beijing flights, but planned to serve the Seattle-Shanghai route using 777-200ERs, according to Cirium.