American Airlines' cancellation of hundreds of flights in the past few days stems primarily due to a lack of trained and current pilots, union officials say.
The Fort Worth-based airline is facing a growing training backlog which is preventing it from flying its schedule as planned, American's pilots' union, Allied Pilots Association (APA), tells FlightGlobal on 21 June.
"Last year we were cancelling flights because there were not enough passengers," union spokesperson Dennis Tajer says. "Today we are cancelling flights because we don't have enough pilots. How did that happen?"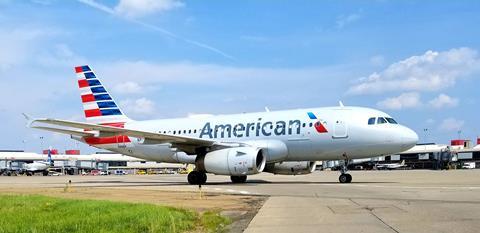 On 20 June, for example, according to data furnished to FlightGlobal, the airline had to cancel 86 legs, or about 3% of its scheduled flights, because of what the airline calls in its internal documents "Flight Crew Unavailable".
On 19 June that number of legs was 44, or 2% of the system-wide operation. The day before that it was 37 legs, or 1% of all flights.
Earlier on 21 June, American had said that it would be cancelling hundreds of flights through mid-July due to "weather, routing and other general operations issues".
But the union says that's only partly true. First of all, weather cannot be reliably forecasted more than a few days in advance, so using that is an excuse for the relatively high number of cancellations through the middle of next month is disingenuous, Tajer says.
He counters that much of the issue lies in the fact that in the throes of the coronavirus pandemic in 2020, the airline furloughed 1,600 pilots, when the first tranche of US government aid to the industry ran out last October.
The carrier offered thousands more early retirement, or six- to twelve-month voluntary leave packages.
That left the airline with a significant shortage of trained and current cockpit crew, putting it in a squeeze when it started ramping up operations as passenger demand began to climb sharply in March.
"When you furlough pilots it can take a long time to get everybody back," Tajer says.
The reason for that is that commercial pilots must go through recurrent training processes in order to be qualified to fly. Although that training is currently in full swing, the airline now has a backlog that cannot easily or quickly be reduced.
During 2020, American also retired numerous aircraft types, including its Boeing 757s, 767s, Airbus A330-300s and Embraer 190s as well as some other regional aircraft.
That forced the pilots who were flying those aircraft to retrain and become certificated on other types.
Tajer also blames the scheduling chaos on inflexibility in the company's outdated crew scheduling systems, and management's reluctance to pay overtime wages to pilots who would be prepared to help alleviate the bottleneck.
"There are ways to get through this, and we want to help" but the company's management has so far not engaged in discussion with its pilots, he says.
In a memo to staff dated 20 April, American's vice-president of flight operations Chip Long had written that all recalled pilots would return to flying status "by the end of the summer". In addition, the airline said at the time that it planned to hire 300 new pilots by the end of the year, and double that number in 2022.
So while the carrier's pilot pipeline may be fuller in the future, during the rest of the traditionally busy summer holiday season 2021 – the next two months – the airline's operations will be susceptible to further service disruptions.
Tajer said the pilot group saw this coming months ago. And with the airline's load factor already hovering around 90% according to its own internal statistics, he says that American is ill-equipped to deal with the consequences.
"We saw it before the pandemic, whenever American had irregular operations [issues] in the past, the airline doesn't recover as quickly as the competitors recover, and we have to fix that," Tajer says.
While he adds it's "exciting" that business is returning so quickly, "it's frustrating and very disappointing that management decided they would just surrender the schedule through the 15th of July".