Japan's All Nippon Airways (ANA) Group is set to restore much of its international network in the coming months on the back of increasing travel demand, but has held back any firm plans to expand its operations to Mainland China.
In a network update issued 17 January, ANA says it is "pursuing transformative measures" in the 2023 fiscal year, in response to "new trends" in travel recovery. The new fiscal year starts 1 April.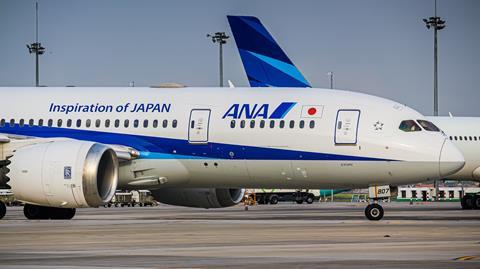 The airline, which has benefited from strong demand since Japan eased its border restrictions in late 2022, states: "For international routes, the ANA Group will proactively build its network to meet the demand for travel to and from Japan, which is expected to continue to increase from 2022, with the relaxation of Japan's travel restrictions."
In particular, mainline carrier ANA will resume flights on several routes to Europe, such as Tokyo Haneda-Munich at thrice a week, Tokyo Narita-Brussels at two flights a week.
ANA is also planning to resume flying to Perth, while doubling its frequencies to Sydney to twice daily.
However, the airline has yet to commit to a ramp-up of Mainland China flights. In a flight plan for the new fiscal year, the airline lists its new plan for Chinese flights as "pending", noting that "an announcement will be made as soon as it is decided".
ANA currently has flights to seven cities on Mainland China, including to Guangzhou, Shanghai Pudong and Dalian. It has had to cut flights to Hong Kong following the Japanese government's decision to impose testing requirements on all Chinese arrivals, including from Hong Kong.
On the domestic network, ANA and its low-cost unit Peach will increase capacity, with overall domestic ASKs higher than the 2022 fiscal year, which will end on 31 March.
"ANA will utilise large-sized aircraft such as the Boeing 777 which resumed operations last year, and flexibly introduce additional flights. Peach will adjust its network to enhance profitability while responding to the rise in demand. The two airlines will support the group network by leveraging the strengths of each brand," says the group.