All Nippon Airways (ANA) and low-cost unit Peach will restore domestic flying to pre-pandemic levels in the coming months, as it eyes "proactively increasing" international flights if and when Japan's border restrictions ease further.
From October, the carrier expects domestic flights to be operating at the same level as the beginning of 2020, right before the coronavirus pandemic struck globally.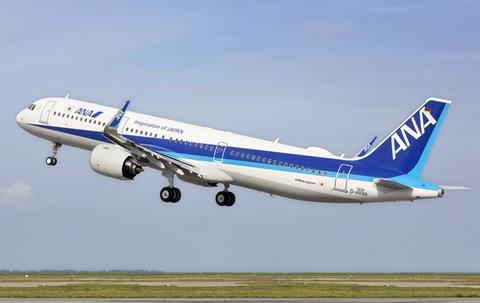 In a schedules update issued 24 August, ANA says domestic trunk routes, including between Osaka Itami and Sapporo, as well as between Tokyo Haneda and Hiroshima, will see one additional daily flight added from 30 October.
The Star Alliance carrier will also resume flights on a number of domestic routes, including Tokyo Narita-Nagoya, as well as Tokyo Narita-Osaka Itami, from 30 October.
As for international flights, the airline hints at further network ramp-ups "in response to recovering demand", which it expects to announce on 30 August. ANA's low-cost unit Peach, meanwhile, will resume flights to Seoul Incheon from Tokyo Haneda, as well as increase flights from Osaka Kansai, from 30 October.
Japan still has onerous entry requirements for international travellers, including requiring expensive polymerase chain reaction tests before departure, a move that has dampened travel demand to the country.
However, there are indications that Tokyo is looking to ease some of these measures, with an announcement expected imminently.
As for cargo, ANA will maintain its current network and frequency, citing sustained demand across the network. It will "offer additional charter flights…as well as utilise passenger aircraft for cargo operations" should the need arise.
ANA, JAL INK REGIONAL CARRIERS CODESHARE PACT
Separately, ANA and compatriot Japan Airlines have jointly signed a codeshare agreement with three Japanese regional operators, as part of efforts to revitalise regional travel in the country.
The 'Essential Air Service Alliance' will allow JAL and ANA to market and sell tickets across the three carriers: Amakusa Airlines, Oriental Air Bridge, as well as Japan Air Commuter.
JAL has existing partnerships with Amakusa Airlines and Kagoshima-based Japan Air Commuter, both of which are partially owned by the airline. Meanwhile, ANA codeshares with Nagasaki-based Oriental Air Bridge.
A new series of codeshares, which will roll out on 30 October, will focus mainly on regional routes in the Kyushu region, where the three carriers are based in.
"[The three regional carriers] will create new demand by expanding new sales channels in addition to existing alliances such as code-sharing, leading to an increase in passenger numbers and promoting stable route operations," a joint statement in Japanese states.