Austrian Airlines has become the latest European carrier to scale back winter capacity amid rising coronavirus infections and ongoing travel restrictions.
The Lufthansa Group subsidiary now plans to operate about 30% of the capacity it deployed in the same period last year. It had previously intended to operate half of its 2019 winter flight schedule in the season running from late October until early March.
Austrian will serve about 60 destinations this winter – 20 fewer than the previous year – and routes will be operated with "substantially reduced frequencies".
The airline's long-haul network includes Bangkok, Chicago, Newark, Shanghai and Washington DC. In mid-December it plans to add twice-weekly services to Cape Town, the Maldives and Mauritius.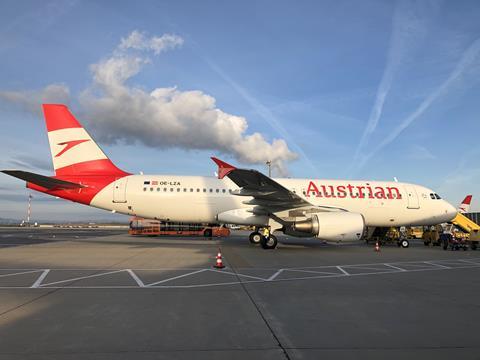 Austrian says its liquidity position is "above target" but it plans further cost cuts as it expects liquidity to decline by €40 million ($47 million) a month.
The carrier will "shortly" receive the last €100 million tranche from a €300 million batch of loans. It has also received €150 million in emergency aid from the Austrian government, as well as a €150 million equity injection from its parent company.
"We are equipped the handle a second wave of the coronavirus thanks to our good liquidity situation, but next summer will be decisive," states Austrian's chief financial and chief commercial officer Andreas Otto. "If we can get a grip on the coronavirus by then, land will be in sight again."
Austrian plans to start trialling pre-flight Covid-19 tests for passengers in the middle of October, which it says will "restore the freedom to travel even before a possible vaccination solution is developed".